Huntingdon Fidget Pie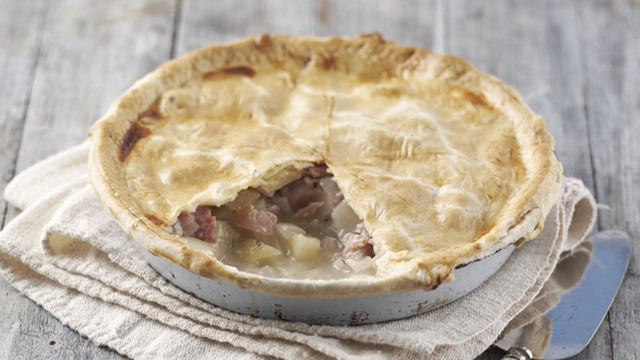 4 servings
70 minutes to prepare
Ingredients
FOR THE PASTRY
200g plain flour
¼ tbsp salt
100g chilled unsalted butter, cubed
1tsp fresh thyme
3tbsp chilled water
FOR THE FILLING
4-5 large eating apples
450g unsmoked bacon with the rind removed
1 large onion, chopped
Handful of chopped fresh parsley
1tsp caster sugar
2tbsp plain flour
1tsp corn flour
250ml dry cider
1 egg yolk to glaze
Instructions
To make the pastry, add the flour, salt, thyme and chilled butter to a food processor then blend until you have a mixture that resembles breadcrumbs. Tip into a bowl, add the cold water and bring the dough together with a blunt knife. Knead the dough until smooth, cover with cling film and refrigerate for 30 minutes.
For the filling, peel, core and chop the apples into bitesize chunks and pop into a bowl. Cut the bacon into bitesize pieces (removing all the rind) and add to the apples with the chopped onion and parsley. Season with salt, milled pepper and caster sugar, then toss all the ingredients in the corn flour. Place the filling into a 20cm pie dish. Next mix the plain flour and 3tbsp of the cider to form a paste, then gradually whisk in the remaining cider. Pour this over the apple mixture in the pie dish.
Roll out the pastry to about the thickness of a pound coin and cut out a circle slightly larger than the pie dish. From the excess pastry cut a 2cm strip. Brush the edge of the pie dish with water and place the strip around the edge of the dish. Then brush the pastry rim with water and carefully place the pie lid on top. Lightly press the edge with the back of a fork to seal. Chill in the fridge for 30 minutes.
Preheat the oven to 180ºc / gas 4.
Brush the pie top with the egg yolk and cook for 45-50 minutes until the pastry is golden.