Iced Fingers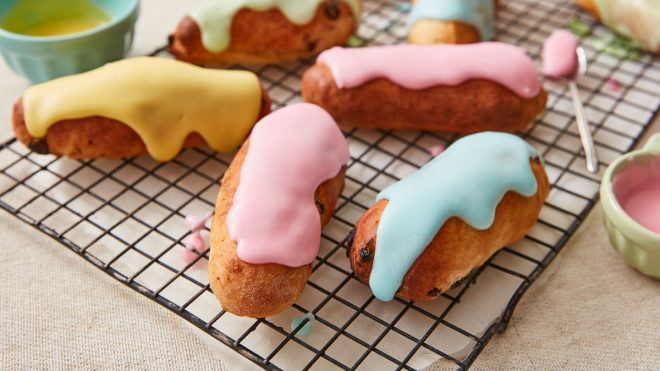 8 servings
1 hour 20 minutes to prepare
Ingredients
To make the fingers
320ml milk
500g Wrights bread mix
50g caster sugar
100g mixed dried fruit
To decorate
200g icing sugar
2tbsp boiling water
Food colouring (optional)
Instructions
These iced fingers (or buns!) are super simple to make using a bought bread mix, and you can have a little fun making colourful icing for the top.
Method
Place the milk into a small saucepan and gently warm, set to one side.
Place the bread mix, caster sugar and dried fruit into the bowl of a stand mixer fitted with a dough hook. Set the mixer on a low speed and slowly add the milk. Mix for 5 minutes. Alternatively mix by hand and then knead for 8 minutes.
Shape the dough into a ball, place into a clean bowl, cover with cling film and allow to prove (rise) for 30 minutes.
Pre-heat the oven to 200°C (fan)/425°F/gas mark 7.
Once the dough has proved, divide into 12 evenly sided pieces. Shape each piece into a sausage shape approximately 15cm long and place on a baking tray lined with baking paper. Cover with cling film and allow to prove (rise) for 15 minutes.
Bake in a pre-heated oven for 15-20 minutes or until light golden brown.
Remove and place the buns onto a cooling rack to cool completely.
To decorate, place the icing sugar and 2 tablespoons of boiling water into a bowl and mix well. Divide the icing onto separate bowls and colour each bowl of icing with a few drops of food coloring as desired.
Spoon a teaspoon of icing onto each bun and spread using the back of a spoon. Allow the icing to set and enjoy!
Chefs Tip
This recipe can be adapted to make easy Chelsea Buns, shape into rounds instead of sausages shapes and top with a glace cherry when decorating.