Jamaican Christmas Cake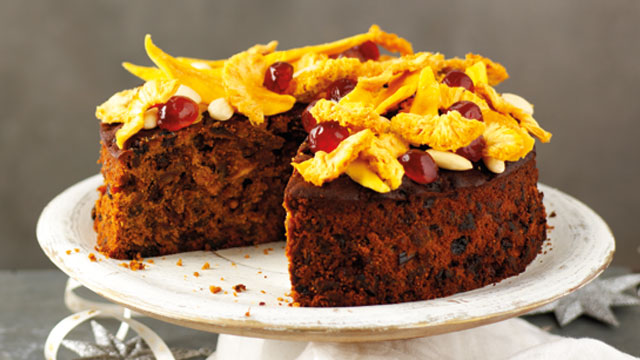 10 servings
30 minutes to prepare
Ingredients
250g unsalted butter, softened
250g dark muscovado sugar
5 large eggs, beaten
1 tbsp black treacle
1 dessert spoon vanilla extract
250g self raising flour, sieved
1 tbsp mixed spice
1 tbsp ground cinnamon
250g dried figs
100g dried mango
100g dried pineapple
150g glace cherries
200g dried dates
400g raisins
200ml dark rum
6 tbsp brandy
3 tbsp dark rum (to feed the cake)
Instructions
Roughly chop the figs, mango, pineapple, dates and cherries then tip into a large bowl with the raisins, rum and brandy. Leave the fruit to soak for 2 days, or longer if you have time to do so.
Pre-heat your oven to 160ºc, gas mark 3.
In a large mixing bowl cream the butter and sugar together until light and fluffy and gradually beat in the eggs. If the mixture looks as if it is starting to scramble, add 1 tbsp of the flour.
Fold in the treacle, vanilla extract, mixed spice and cinnamon. Next tip in the fruit and rum mixture and fold in. Lastly gently mix in the four, making sure everything is well combined.
Take a 10" deep cake tin, grease and double line with baking parchment.
Spoon the mixture into the prepared cake tin, tap the cake tin on the work surface a couple of times to knock any air out and level off the top.
Bake for 2 1/2 hours on the middle shelf of the oven. Once ready leave to cool completely.As the cake cools prick all over with a skewer; then using a teaspoon, drizzle over the 3 tbsp of rum.
The cake will keep in a tin for up to 2 weeks.