Watermelon Pizza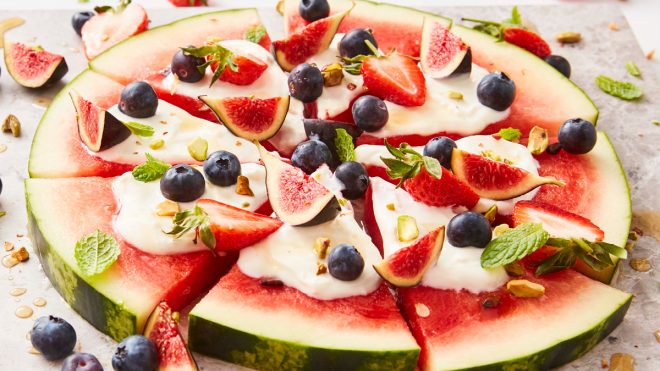 9 servings
15 minutes to prepare
Ingredients
1 large watermelon (divided and sliced into 6)
6. tbsp coconut yoghurt
2 figs
4 strawberries, quartered
Handful of blueberries
Sprinkle of crushed pistachio
2 sprigs mint
2. tbsp maple syrup
Instructions
Bite into a slice of summer with this refreshing and delicious, watermelon pizza.
Method
Take a watermelon and take one whole 2-3cm depth slice.
Divide into six slices and place on a platter or serving board.
Spoon a tablespoon of coconut yoghurt onto each slice of watermelon.
Quarter the strawberries and figs in a bowl with a handful of blueberries and then scatter over the entire watermelon.
Garnish with mint leaves, drizzle in maple syrup and sprinkle with pistachio.
Chef's Tip
How to know your watermelon is ripe? When choosing your watermelon look for the yellow spot on the base otherwise known as the field spot. Ripe watermelons always have a creamy yellow spot visible where the melon has rested on the ground.