Kimchi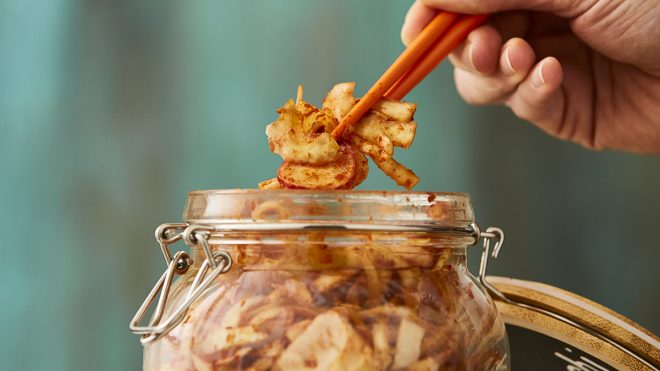 16 servings
2 hours 10 minute - Leave overnight to ferment to prepare
Ingredients
1 Green cabbage
4 tsp. Sea salt
3 Cloves garlic
1 Inch Piece of ginger, peeled and grated
1 tsp. Chilli flakes
1 tbsp. Smoked paprika
1 tbsp. Sugar
1 tbsp. Shrimp paste
3 tbsp. Rice wine vinegar
100g Radishes, sliced
Instructions
Kimchi is a Korean classic, made by fermenting cabbage and carrots in a tangy spicy sauce to make a delicious side dish.
Method
Cut the cabbage into quarters, remove the core and thinly slice. Place into a large mixing bowl, add the salt and toss to combine. Cover and leave for 2 hours.
Meanwhile, mix the garlic, ginger, chilli flakes, smoked paprika, sugar, shrimp paste and rice wine vinegar in a bowl, set to one side.
Rinse the cabbage thoroughly to remove all of the salt. Tip onto a large piece of kitchen roll and pat dry. Place in a large mixing bowl.
Add the radishes to the cabbage and pour over the prepared paste.
Mix well to combine and spoon into a sterilised 1.4 litre Kilner jar.
Leave to ferment at room temperature overnight before transferring to the fridge.
This will keep for 2 weeks in the fridge.
Chef's Tip
Sterilise your jar by washing thoroughly in hot soapy water, rinse well. Pre-heat the oven to 120°C (fan)/275°F/gas mark 1. Place the jar on a baking tray and place in the pre-heated oven for 15 minutes or until completely dry. To sterilise the Kilner rubber seal place in a pan of boiling water and boil for 3 minutes.