ManiLife Peanut Butter Sandwiches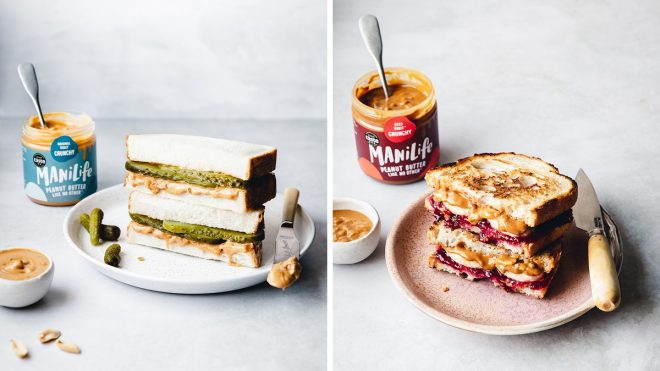 1 servings
5 mins to prepare
Ingredients
PB and Pickles
2 tbsp ManiLife Original Roast Crunchy Peanut Butter
2 slices of bread (toasted sourdough OR fluffy white bread)
4 pickles sliced in thin strips
Drizzle of Sriracha
Elvis Presley's (Vegan) Sandwich
ManiLife Deep Roast Crunchy Peanut Butter
Raspberry Jam
1/2 banana, sliced
2 slices sourdough
Instructions
PB and Pickles
Take your bread and cover both slices with ManiLife Original Roast Crunchy Peanut Butter.
Take one side of the sandwich and drizzle over the Sriracha (if you like it spicy, add more!)
On the second slice, layer your pickles on the peanut butter.
Match the two slices. You are ready for a treat!
Soft, sweet and salty – everything you need from a sandwich! Why not try toasting the bread beforehand?
Elvis Presley's (Vegan) Sandwich
Spray a pan with coconut oil over medium heat.
Grab your two slices of sourdough and spread once slice with ManiLife Deep Roast Crunchy Peanut Butter and the other with the jam.
Add the sliced banana to the peanut butter side and top with the jam side (jam side down).
Grill in the pan for 4 mins on both sides.
Slice the sandwich in half (because it looks delicious!) and devour.