Mixed Bean Chilli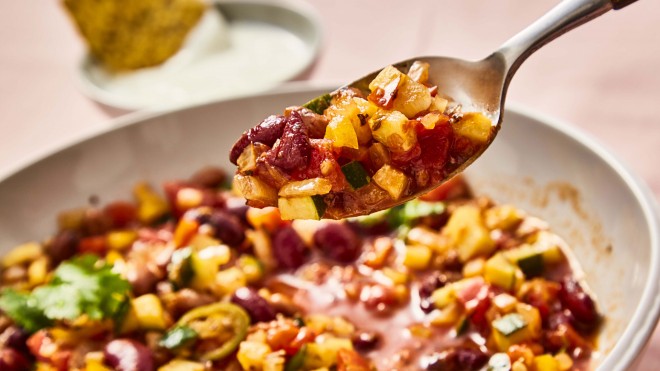 6 servings
55 minutes to prepare
Ingredients
1 tsbp olive oil
2 large onions, chopped
1 red pepper, chopped
1 yellow pepper, chopped
2 mediu courgettes, diced
3 garlic cloves, finely chopped
A large bunch of fresh coriander
2 green chillies, finely chopped
1 tbsp dried oregano
2 tsp cumin seeds
1 tbsp tomato purée
400g can of chopped tomatoes
400ml vegetable stock
400g can of kidney beans, drained and rinsed
400g can of pinto or black-eyed beans, drained and rinsed
To serve cooked wholegrain basmati rice, natural yogurt (or dairy-free alternative), lime wedges & low-fat corn tortilla chips
Instructions
1 Heat 1 tbsp olive oil in a large saucepan over a medium-low heat. Add the onions and peppers and cook for about 8 minutes until they start to soften and caramelise.
2 Stir in the courgettes and garlic and cook for a further 3 minutes. Remove the stems from the coriander, chop finely (reserving the leaves for later), and add to the pan with the chillies, oregano and cumin seeds. Toss together well, then add the tomato purée and cook for 3 minutes.
3 Tip in the chopped tomatoes and vegetable stock. Simmer, uncovered, for 20-25 minutes.
4 Stir in the kidney and pinto beans and heat through for 5 minutes. Sprinkle with the fresh coriander leaves.
5 Serve with wholegrain basmati rice, natural yogurt or dairy-free alternative and low-fat corn tortilla chips.
CHEF'S TIP For the low-fat corn tortilla chips preheat the oven to 180°C/fan 160°C/gas 4. Cut up ready-made soft corn tortillas into triangles and put on a baking tray. Spray with low fat cooking spray and sprinkle with paprika. Bake for 3–4 minutes until golden and starting to curl up at the corners.  Leave to cool – they will crisp up.