Mixed Fish Grill with New Potato & Runner Bean Salad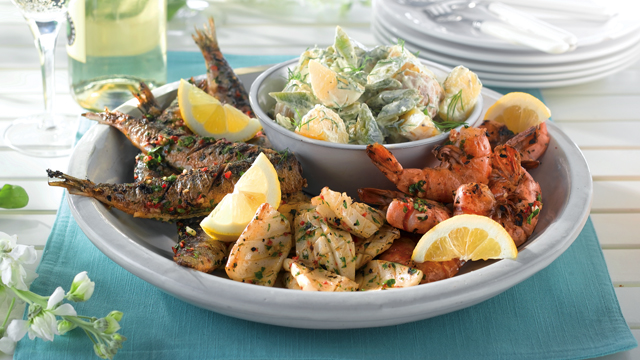 4 servings
40 minutes to prepare
Ingredients
8 fresh sardines, gutted and washed
2 fresh squid tubes, sliced into 1cm rings
12 fresh king prawns
1tbsp olive oil
1 red chilli, de-seeded and finely chopped
2 garlic cloves, crushed
Juice of ½ lemon
1tbsp chopped parsley
For the salad
400g new potatoes
4 runner beans, sliced into 1cm pieces
1 medium red onion, thinly sliced
1tsp chopped fresh dill
2tbsp crème fraiche
Juice of ½ lemon
Instructions
Pre-heat a griddle pan over a medium heat.
In a small bowl, whisk together the olive oil, chilli, garlic, lemon and parsley and a little salt and milled pepper.
Place all the fish into a non-metallic dish; pour over the marinade coating all the fish in the flavours then leave to marinate for 30 minutes.
Meanwhile, cook the potatoes in salted water until just tender then add the runner beans and continue to cook for 2-3 minutes then drain into a colander and leave to cool.
In a large bowl, mix together the crème fraiche, lemon, dill and season with a little salt and milled pepper. Chop the potatoes into bite-sized pieces and carefully fold into the crème fraiche mixture and add the sliced red onion.
Cook the sardines and prawns first for 5 minutes on a griddle pan, turning half way through then place onto a warm serving plate. Turn up the heat on the griddle pan and cook the squid for 1 minute.