No Bake White Chocolate Mini Egg Rocky Road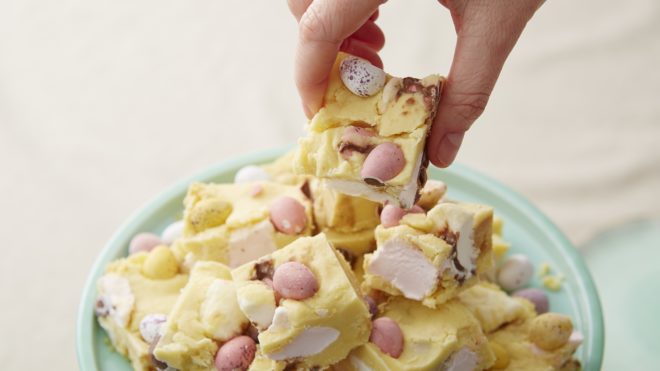 16 servings
2 hours 15 minutes to prepare
Ingredients
300g white chocolate, chopped
50g butter
50g golden syrup
150g shortbread
75g marshmallows, either mini ones or quartered large ones
150g mini eggs
Instructions
This is the ultimate in sweet! Easy to make with children (supervised by an adult at all times) it's fun to make on a rainy Easter holiday afternoon.
Line a 20x20cm tin with baking paper.
Place the white chocolate, butter and golden syrup into a glass bowl. Place the bowl over a saucepan of simmering water and allow to melt stirring occasionally. Allow to cool slightly.
Break the shortbread into bite sized chunks. Add the broken shortbread, marshmallows and 100g of mini eggs into the white chocolate mix. Stir to combine.
Spoon the mix into the prepared tin and flatten using the back of a spoon. Scatter over the remaining mini eggs and refrigerate for 2 hours.
To serve, cut into approximately 25 mini squares.
Chef's Tip
To make this into an indulgent adult treat, swap the white chocolate for dark or milk. Add Amaretti biscuits instead of shortbread and swap the mini eggs for cherries.