Oat and Toffee Leaf Biscuits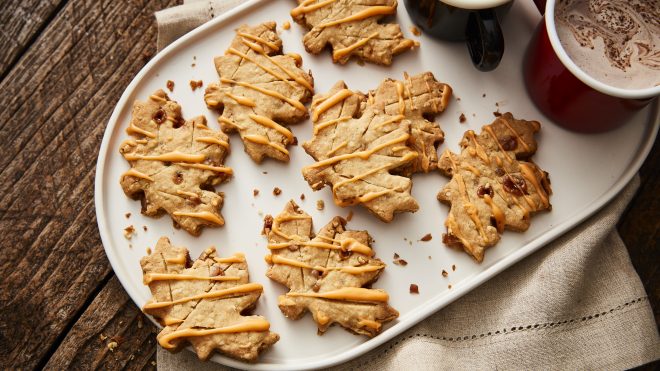 15 servings
35 minutes to prepare
Ingredients
100g butter, softned
50g soft brown sugar
1tsp. toffee essence
150g plain flour
50g fudge cubes
50g oats
For the icing  
100g icing sugar
1tsp. toffee essence
orange food colouring
Instructions
Autumn is upon us, so why not have a go at making these super seasonal oat and caramel leaf biscuits – It's an easy recipe the kids will simply love!
Method
Pre-heat the oven to 160°C (fan)/350°F/gas mark 4.
Cream the butter, sugar and toffee essence in a mixing bowl until pale and fluffy.
Add the flour, fudge cubes and oats, stir well then, using your hands, bring the mix together to form a dough.
Lightly dust a work surface with flour. Roll the dough to approximately 1 cm thick and using a leaf cutter cut 10 biscuits, re-rolling the dough if necessary.
Line a baking tray with baking paper and place each leaf biscuit onto the tray.
Use a butter knife to lightly indent each biscuit to create veins on your leaves.
Bake in a pre-heated oven for 20-25 minutes or until very lightly golden brown around the edges.
Remove from the oven and allow to cool completely on the tray.
To make the icing, place the icing sugar, toffee essence and one tablespoon of boiling water into a small bowl. Beat to combine. Add a couple of drops of orange food colouring and mix well.
Drizzle the icing over the biscuits and allow to set before serving.
Chefs Tip – Make a hole at the top of each biscuit using a skewer before baking. Once baked and cooled thread each biscuit with a loop of string and hang on a decorative branch. This is a great recipe for Halloween, use a round cutter and pipe spider's webs onto each cookie.