Orzo Pasta Salad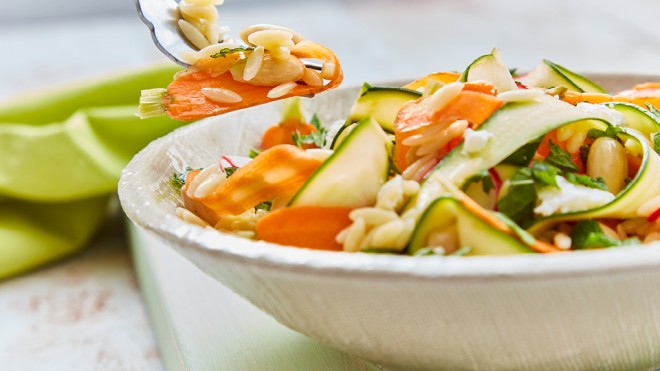 4 servings
25 minutes to prepare
Ingredients
500g orzo pasta
4tbsp extra virgin olive oil
1 lemon, juice & zest
For the Pickles
200g baby carrots
200g baby courgettes
100g radishes
1 large banana shallot
200ml white wine vinegar
200ml white wine
1tsp black peppercorns
1 bay leaf
1 sprig thyme
To Serve
4tbsp ricotta
2tbsp whole blanched almonds
2tbsp chopped mint
Instructions
A fresh and zesty vegetarian summer pasta salad.
Cook the orzo pasta in boiling water for 8 minutes then drain in a colander and rinse well with cold water to cool.
Place the vinegar, white wine, peppercorns, bay leaf and thyme into a small saucepan and bring to a simmer to create a pickling liquor.
Use a vegetable peeler or mandolin to finely slice the baby carrots, courgettes and radishes. Cut the shallot into rings as finely as possible. Place all the vegetables into a shallow tray and pour over the hot pickling liquor. Leave for 5 minutes before draining in a colander.
In a large mixing bowl, combine the orzo pasta with the pickles, olive oil, lemon juice and zest then mix well.
Place the pasta salad into a serving dish and sprinkle with the almonds, chopped mint and dollops of fresh ricotta.
Chef's Tip
You can keep homemade pickles refrigerated in a non-metallic container such as a glass kilner jar (sterilise it first) for up to 2 weeks.