Parma Ham Stuffing Cups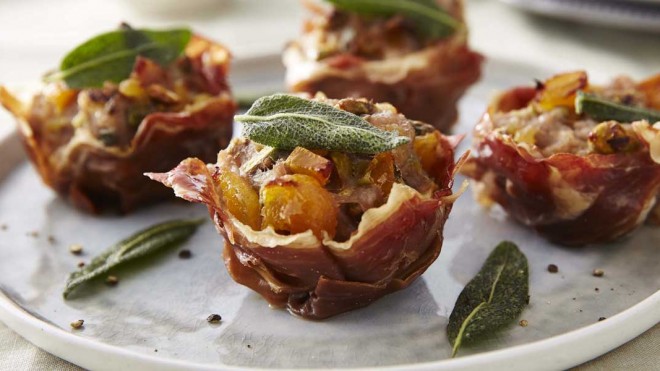 4 servings
30 minutes to prepare
Ingredients
4 slices Parma ham
3 Booths sausages (flavour of your choice!)
2tbsp pistachios, roughly chopped
50g dried apricots, chopped
2tbsp sage, chopped
Crispy Sage Leaves to Garnish
1tbsp olive oil
4 sage leaves
Instructions
Perfect little individual stuffing pots to pop on the side of your roast dish.
Pre heat the oven to 180°C (fan)/400°F/gas mark 6.
Using a muffin tin, line 4 of the cups with Parma ham using one slice per cup.
Remove the sausage meat from the skins. Discard the skins and place the sausage meat into a bowl.
Add the pistachios, apricots and sage to the sausage meat and mix well to combine.
Divide the sausage meat mix evenly between the 4 lined cups.
Bake in the pre-heated oven for 20 minutes or until golden brown and cooked through.
For the crispy sage leaves, heat the olive oil in a small pan over a medium heat. Add the sage leaves and fry until the leaves start to curl and crisp, approximately 1 minute. Remove and place on a sheet of kitchen roll.
Garnish your Parma ham stuffing cups with the crispy sage leaves and serve with your favourite roast.
Chefs Tip
Change the flavour of sausage you use to suit your roast meat; pork and apple for roast pork and caramelised red onion for beef.
Make bite sized canape versions of this recipe using a mini muffin tin, perfect for drinks parties and buffets.
The optimum time and temperature varies by individual ovens – these are guidelines only. Please ensure all cooked recipes are served piping hot. Keep raw meat separate from cooked food. Use separate kitchen utensils and surfaces for raw and cooked foods, or wash thoroughly in between use. Wash hands thoroughly after handling raw meat.
Some products may only be available in our larger stores. All content © Booths 2017.