Parsnip & Hazelnut Soup with Blue Cheese Toasts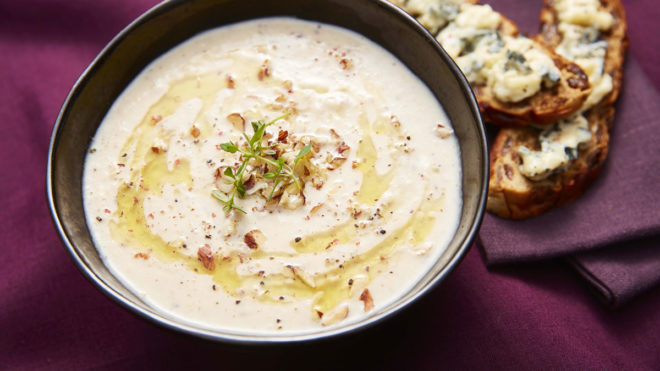 6 servings
30 minutes to prepare
Ingredients
75g hazelnuts
25g butter
500g parsnips peeled & chopped
2 cloves of garlic
250ml whipping cream
500ml whole milk
500ml vegetable stock
Salt & pepper
For the Toasts
6 slices fruit bread
75g blue cheese
To Garnish
20g hazelnuts, chopped
6 sprigs of thyme
A drizzle of olive oil
Instructions
The perfect starter to your festive feast, this parnsip and hazelnut soup is simply delicious! Alternatively, it's ideal for a winter's lunch.
Method
Place a large saucepan over a medium heat, add the hazelnuts and toast for 5 minutes.
Add the butter, parsnips and garlic to the pan and sauté for 5 minutes.
Add the cream, milk and vegetable stock. Bring to the boil then reduce to a simmer for 15 minutes.
Remove from the heat and blend to a smooth consistency. Season to taste with salt and pepper.
Lightly toast the fruit bread slices on each side. Crumble the blue cheese over each slice and return to the grill to melt.
To serve, ladle the soup into warm serving bowls, garnish with chopped hazelnuts, sprigs of thyme and a drizzle of truffle oil. Serve with the warm blue cheese toasts.