Party Crostinis Recipe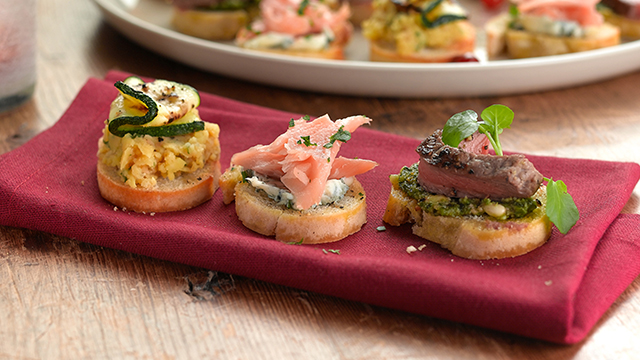 7 servings
20 minutes to prepare
Ingredients
Crostinis:
2 part-baked baguettes
Drizzle of olive oil
1 garlic clove, peeled
Toppings:
100g Dolcelette cheese
2 Bleikers smoked trout fillets
1 sirloin steak, cooked to pink
2tbsp tbsp pesto sauce
1 large courgette
1tbsp olive oil
250g tinned butter beans, drained
3 garlic cloves
100ml vegetable stock
Squeeze of lemon juice
Instructions
For the Crostinis:
Slice the baguettes about 1cm thick and place onto a baking tray, drizzle with olive oil and grill until golden.
Turn over and grill the other side. Whilst warm, rub the crostinis with the garlic clove and cool.
For the toppings, try:
A thin slice of Dolcelette cheese topped with flaked smoked trout and a squeeze of lemon. (Alternatively, you can mix a little cream cheese with horseradish and dill).
Cook the steak for one and half minutes on each side then leave to rest. Cut into thin slices, spread a little pesto onto each crostini and top with a thin slice of sirloin steak and a sprig of watercress.
Gently warm 250g of butterbeans in a small saucepan with 100mls of vegetable stock and 3 crushed garlic cloves, when warmed through, mash with a fork and top each crostini with the mashed butterbeans and a slice of griddled courgette.