Hearty Pea and Ham Soup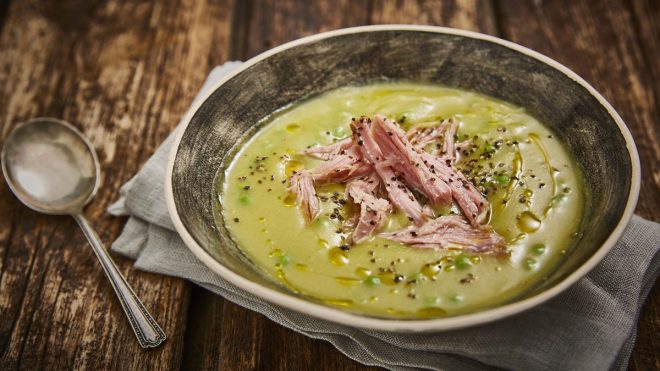 6 servings
2 hours to prepare
Ingredients
200g dried split peas
1kg unsmoked gammon joint
1.5ltrs water
1 large onion, chopped
1 leek, chopped
300g frozen peas
Instructions
A hearty winter warmer of a pea and ham soup that will satisfy the whole family.
Place the dried split peas into a large saucepan with  1.5ltrs of water and bring to the boil. Add the gammon, cover and cook for 40 minutes over a medium heat.
Add the onion and leek and bring to the boil again. Cover and cook for a further 40 minutes.
Remove the gammon from the soup. When cool enough to handle, discard excess fat and shred the meat.
Add the frozen peas to the pan and heat through for a few minutes. Ladle half of the soup into a blender or food processor and process until smooth.
Return the blended soup to the pan, add the shredded gammon and warm through. Serve with freshly ground black pepper and a dash of olive oil.
Chef's Tip
If you prefer a thicker soup, you can add two large, uncooked diced potatoes at step 2. Garnish with a sprinkle of finely chopped mint before serving to add freshness.