Pea, Ham and Mint Soup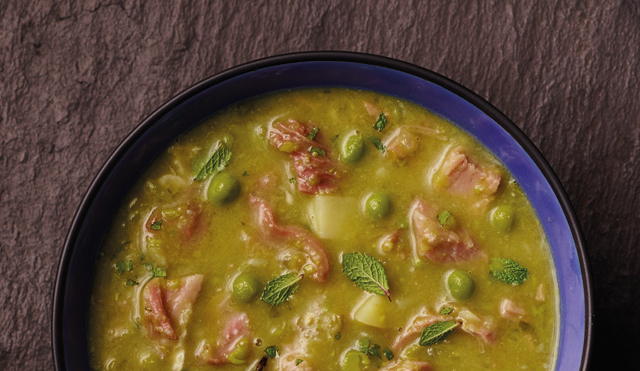 6 servings
Cook 80 minutes, 15 minutes to prepare
Ingredients
200g dried split peas
1.5ltrs water
1kg unsmoked gammon joint
1 large onion, chopped
1 leek, chopped
2 large potatoes, diced
300g frozen peas
25g fresh mint, finely chopped
Instructions
1 Place the dried split peas in a large saucepan with the water and bring to the boil. Add the gammon, cover and cook for 40 minutes over a medium heat.
2 Add the onion, leek and potato and bring to the boil again. Cover and cook for a further 40 minutes.
3 Remove the gammon from the soup and leave to cool slightly until cold enough to handle. Discard any excess fat and shred the meat.
4 Add the frozen peas to the pan along with the chopped mint and heat through for a few minutes. Ladle half of the soup into a blender or food processor and process until smooth.
5 Return the blended soup to the pan, add the shredded gammon and warm through. Serve with freshly ground black pepper.