Pecan, Hazelnuts and Sour Cherry Florentines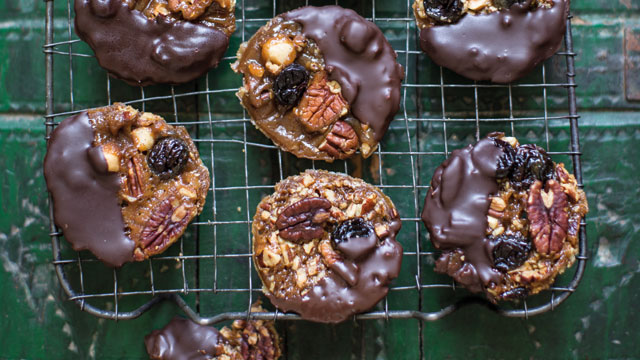 16 servings
50 minutes to prepare
Ingredients
150g Billington's dark muscovado sugar
3 x 70g packs Forest Feast sour cherries
100g unsalted butter, cut into cubes
300g Green and Blacks dark chocolate
100g pecans
100g hazelnuts
180g golden syrup
100g Booths plain flour, sifted
1 tsp ground cinnamon
1 tsp ground ginger
Instructions
Preheat the oven to 180ºc/ gas 4
The nuts
1 Spread the pecans and hazelnuts out on a baking tray and roast in the oven for about 6-8 minutes, until they're toasted and fragrant.
2 Blend half of them in a food processor until roughly chopped. Keep the other half whole and set aside.
The base
1 Heat the butter, sugar, spices and syrup in a saucepan and stir over a medium heat until all the ingredients have melted together.
2 Take the pan off the heat and stir in the flour.
3 Get two flat baking trays and line them with greaseproof baking paper.
4 Pour half the melted mixture into the middle of each tray, and using a palette knife, spread it out so it's even to about 2mm thickness. Leave a thumb-width border around the edge because the mixture will spread in the oven.
5 Put both trays in the oven and cook for 5 minutes.
6 Take them out and scatter with the ground nuts and sour cherries, then put the trays back in the oven for 10-15 minutes, until the mixture is a deeper colour and bubbling.
7 Let the mixture cool, but for no longer than 5 minutes. Using a cookie cutter, and working in from the edge, cut rounds of Florentines.
8 Put them on a wire rack as you go. Work quickly because the mixture will cool and become brittle and difficult to cut. If that happens, put the tray back in the oven for a couple of minutes to soften up. Once you've cut them out, chill the Florentines in the fridge.
The Chocolate
1 Get a medium saucepan and glass bowl that will sit in the saucepan but not touch the bottom.
2 Add some water to the pan and bring to simmering point.
3 Break the dark chocolate into pieces, put them in the bowl over the saucepan of water and let it all melt slowly.
4 Remove the chocolate from the heat once melted and dip your Florentines into the chocolate so they're half covered.
5 Rest the Florentines on a wire rack for 20 minutes, then put them in the fridge until the chocolate has set and gone from glossy to matt.