Perfect Parsnip Puree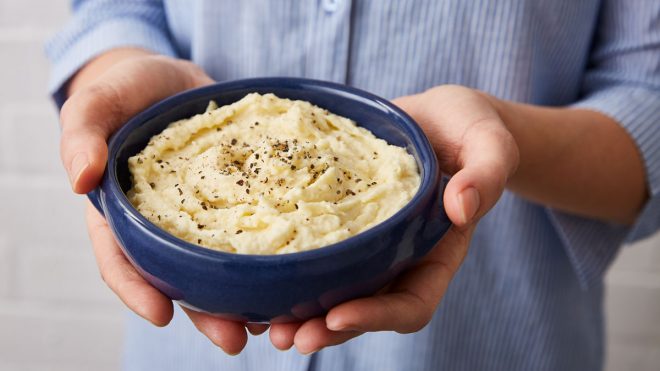 4 servings
30 minutes to prepare
Ingredients
25g butter
500g parsnips
2 cloves garlic
125ml whipping cream
125ml whole milk
Salt & pepper
Pinch nutmeg
Instructions
A delightful side dish when done well, parsnip puree pairs well with any roast dinner, or fish such as sea bass. Feel free to experiment with flavouring – why not add a teaspoon or two of curry spices instead of nutmeg for a curried parsnip puree? Add into the pan at step 2 for the last couple of minutes.
Method
Melt the butter over a medium heat in a large saucepan.
Roughly chop the parsnips. Add the parsnips and garlic to the pan and sauté for 5 minutes.
Add the cream and milk. Bring to the boil then reduce to a simmer. Simmer for 15 minutes.
Remove the parsnips and garlic with a slotted spoon and place into a food processor. Blitz to puree. Add the cooking liquor and blitz to form a smooth puree.
Season to taste with salt, pepper and a pinch of nutmeg. Serve warm.
Chef's Tip
Don't throw away the parsnip peelings! Scrub the parsnips clean before peeling, toss the peel in a little olive oil, salt and pepper and roast in a pre-heated oven at 200°C (fan)/425°F/gas mark 7 for 10-12 minutes or until crispy. Enjoy as a snack or use to garnish soups and stews.