Pink Grapefruit, Candied Pecan and Avocado Salad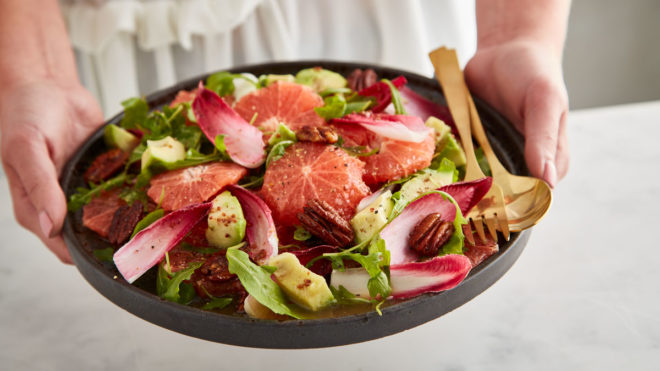 6 servings
18 minutes to prepare
Ingredients
For the candied pecans
2tbsp caster sugar
1tbsp butter
100g pecans
For the dressing
2tbsp olive oil
1tbsp honey
1tbsp red wine vinegar
1tsp wholegrain mustard
Salt and pepper
For the salad
4 pink grapefruits
2 avocados
2 heads of chicory
20g rocket leaves
Instructions
This pink grapefruit salad makes for a refreshing change to start your festive feast.
Method
To make the candied pecans, heat the butter and sugar in a small pan over a medium heat for 3 minutes. Add the pecans and cook for a further 3-4 minutes or until caramelised. Tip the candied pecans onto a baking tray lined with baking paper and allow to cool.
To make the dressing, place all of the ingredients into a small bowl, whisk to combine and season with salt and pepper. Set to one side.
Peel the grapefruits, slice into rounds approximately ½ cm thick and arrange on a serving platter.
Peel the avocados, remove the stone and slice into chunks, scatter over the grapefruit.
Separate the chicory leaves and arrange over the grapefruit. Scatter over the rocket leaves.
Spoon over the dressing and garnish with the candied pecans.