Pitta Pizza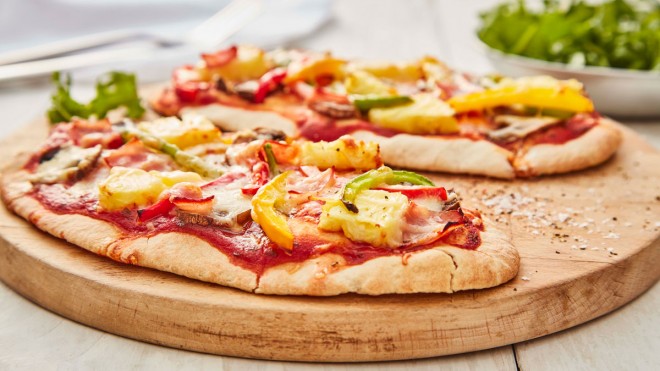 1 servings
15 minutes to prepare
Ingredients
1 pitta bread
1tsp passata
Selection of toppings, we suggest ham, pineapple, fresh peppers, mushrooms, sweetcorn, tuna...the list is up to you!
30g Grated cheese
Instructions
A super simple construction recipe that's perfect to make with the little ones for a special holiday lunch.
Method
Preheat the oven to 170°c/325°f/Gas mark 3.
Grab the kids and start constructing! Spread 1tsp of the passata over one side of a pitta bread, then load with toppings of your choice. Once it's loaded to perfection, sprinkle with approx 30g of grated cheese per pitta.
Bake on an oven tray for 5 minutes, or until the cheese is melted and golden-brown. Serve with a big colourful salad.
Chefs Tip
These work just as well with wraps or even a baguette sliced in half lengthways to make 'french bread' pizza. Mix and match any of your kids' favourite toppings – you could create some really unique taste sensations, or get busy with a cutter to make some fun shapes from your toppings.