Pizza Muffin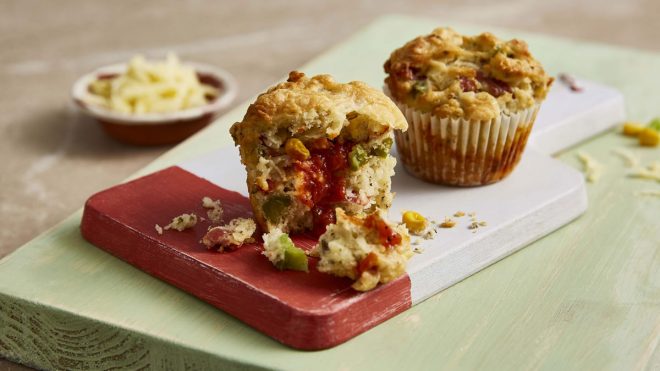 12 servings
35 minutes to prepare
Ingredients
DRY INGREDIENTS
450g self raising flour
1tsp baking powder
150g Cheddar cheese, grated
50g salami, sliced into strips
50g sweetcorn
50g green olives, pitted and roughly chopped
1tbsp dried oregano
1/2 green pepper, diced
WET INGREDIENTS
160ml olive oil
2 eggs
250ml milk
TOPPING
100g tomato pizza topping
50g cheddar cheese, grated
Instructions
A gorgeous savoury pizza muffin perfect for an afternoon snack or a picnic basket, lots of fun to bake with the kids.
Pre-heat the oven to 180°C (fan)/400°F/gas mark 6.
Line a 12-hole muffin tin with paper muffin cases.
Place the dry ingredients into a mixing bowl and stir to combine.
Place the wet ingredients into a jug and whisk to combine.
Make a well in the centre of the dry mix, add the wet mix and stir to combine.
Divide half of the mixture evenly between the muffin cases. Top with a heaped teaspoon of the tomato pizza topping. Spoon the remaining muffin mixture between the muffin cases to cover the tomato pizza topping.
Scatter over the remaining grated cheese and bake in the pre-heated oven for 20-25 minutes.
Check the muffins are cooked by inserting a skewer into the centre, it should come out clean when cooked.
Enjoy warm or allow to cool completely.
Chefs Tip
Make these muffins your own, swap the 'toppings' (salami, sweetcorn, olives, green pepper) for your favourites. Why not try ham, pineapple, black olives and sliced mushroom? These muffins freeze well, and are great for packed lunches and picnics.