Polish Cheese & Potato Pierogi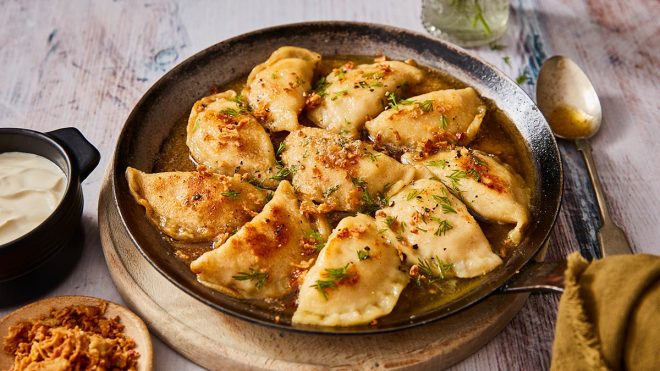 4 servings
60 mins to prepare
Ingredients
For the dough
375g plain flour
1 medium egg, beaten
1 tsp salt
200ml warm milk
For the filling
20g butter
1 diced onion
3 Maris Piper potatoes
250g ricotta
50g mature Chaeddar, grated
1 tsp garlic granules
1 tsp onion granules
Salt and pepper to taste
25g butter to fry
Instructions
METHOD:
Pre-heat oven to 200°C / 180°C (fan) / gas mark 6.
Prick the potatoes with a fork, place onto a baking tray and cook in the oven for 45 minutes.
For the dough, place the flour and salt into a mixing bowl and then add the beaten egg and milk until the dough starts to form.
Knead for 5 minutes and then cover with cling film and rest for 30 minutes in the fridge.
While the potatoes are cooking and the dough is resting, melt 20g of butter in a pan and sweat the diced onions until soft and place into a bowl.
Remove the potatoes from the oven, split in half and scoop out the middle and add to the onion. Discard the skins.
Add the ricotta, grated Cheddar, garlic granules and onion granules. Mix well and season to taste with salt and pepper.
Roll out the dough until thin like pasta and using a small cup, cut out 16 discs of dough and place a spoonful of potato mix in the middle of each disc.
Fold the pastry to form small crescent shaped dumplings and crimp the edges.
Place in the fridge for 10 minutes while you bring some water to the boil in a pan.
Once the water is boiling add 8 dumplings at a time and cook for 1 minute or until they float. Remove from the pan and rest them on kitchen paper to dry.
Melt a little butter in a frying pan and gently fry the dumplings until golden.
Serve in a warm bowl, with crispy onions, dill and a dollop of sour cream.