Pot Roasted Lamb with Chorizo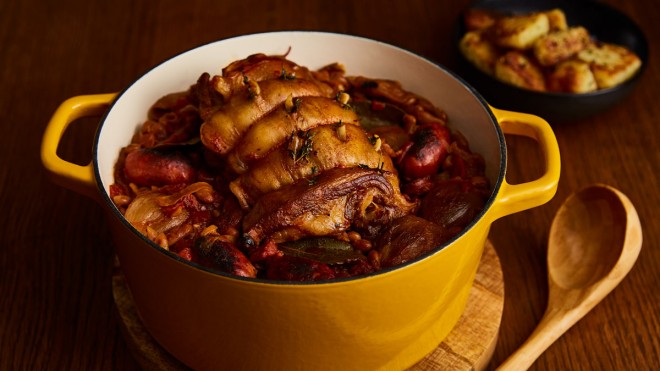 8 servings
4 hours to cook, 30 minutes to prepare
Ingredients
1.5kg shoulder lamb
200g chorizo
400g dried white beans such as cannellini or haricot
2 medium onions, chopped
6 garlic cloves, 4 crushed, 2 finely chopped
4-6 fresh bay leaves
24 small shallots or 6 onions, peeled
2 small sprigs fresh rosemary leaves only
1.5tsp smoked paprika
400g tin chopped tomatoes
1tsp caster sugar
3 sprigs fresh tyme, leaves only
Olive oil
Black pepper
Crushed chillies (optional)
Instructions
A warming winter one pot lamb dish, enough to feed a crowd.
Heat 2 tbsps olive oil in a large casserole dish. Add half the chopped onion, 2 of the crushed garlic cloves, bay leaves and the optional crushed chillies and stir well. Cover and cook on a low heat for 10 mins until onions are soft and lightly golden. Add the beans and cold water to just cover them (750ml – 1 litre). Bring to the boil then lower the heat, part cover and leave to simmer for about 45 mins or until tender.
Meanwhile, heat another 2 tbsp olive oil in a large non-stick frying pan. Pat the lamb dry, then fry it on all sides for 6-8 mins until browned. Set it to one side. Add the chorizo to the pan and fry briskly until lightly coloured. Set it aside with the lamb. Add the peeled shallots and brown for 6-7 minutes, set aside. When the lamb is cool enough to handle, make small but deep incisions all over the joint with a small, sharp knife and poke the garlic slivers and rosemary leaves into each one. Then season the joint all over and preheat the oven to 170c / 325f / gas mark 5.
Add a tbsp of oil to the frying pan with the remaining onion and fry until golden. Add the remaining 2 crushed garlic cloves, the smoked paprika and cook for 2 mins. Then stir in the tomatoes and thyme leaves. Bring to a simmer.
Stir the tomatoes, chorizo and browned shallots into the beans with the sugar and some black pepper. Rest the lamb on top and cover the casserole with some foil and a lid. Pop into the oven and cook for 1 ½ hours, removing the lid 15-20 mins before the end of the cooking time. This will give you slightly pink, juicy lamb. If you prefer it a little more done then cook for the full 1 ½ hours and then uncover to cook for a further 20 minutess.
Lift the lamb onto a carving board, wrap closely with foil and leave to rest for 10 minutes.
If the bean sauce is still quite runny, bring them to a simmer on the stove top and just cook gently for a few minutes until the liquid reduces. Season to taste and remove the bay leaves.
Carve the lamb into generous slices and serve on top of the beans with really creamy and crusty artisan bread and butter on the side.