Prawn Cocktail in a Glass With a Twist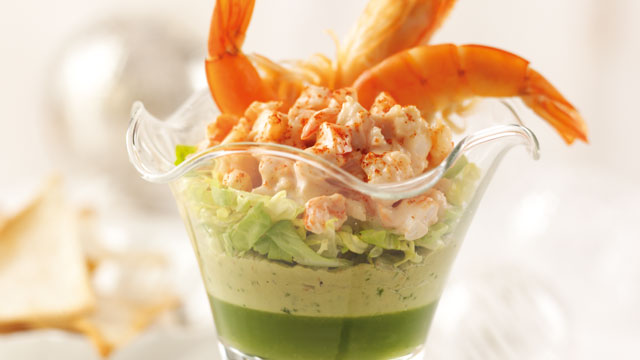 8 servings
45 minutes to prepare
Ingredients
15 cooked king prawns, peeled
1 head of baby gem lettuce, shredded
1/2 a cucumber
1/2 juice of a lime
1 sheet of gelatine
salt and pepper
For the avocado mousse
2 really ripe avocados
1 tbsp cream cheese
1/2 a lime juice
10 fresh basil leaves
For the Bloody Mary sauce
3 tbsp mayonnaise
2 banana shallots, peeled and finely chopped
1/4 tsp cayenne pepper
a few dashes Tabasco sauce
a few dashes Worcestershire sauce
1 tbsp tomato ketchup
1/2 juice of a lemon
1/4 tsp celery salt
Instructions
The jelly
1 Put the gelatine into a bowl of cold water and leave it to go soft.
2 Pop the cucumber into a blender and blitz it. Then pass it through a sieve: you only need the juice.
3 Add the lime juice to the cucumber juice and season with salt and pepper.
4 Put 200ml of water into a small saucepan and heat until simmering. Then wring out the gelatine, put in a heat proof bowl and put the bowl over the saucepan.
5 Give it a few seconds to melt, then stir it into the cucumber and lime juice and leave it to cool.
6 Pour the mixture into serving glass and pop them in the fridge to set.
The mousse
1 Put the avocados, cream cheese, lime juice, basil and a touch of salt and pepper in a food processor.
2 Blend until smooth.
3 Put the mousse into a bowl, cover it with cling film and put it in the fridge to chill.
The sauce
1 Mix all the sauce ingredients in a bowl.
2 Chop the prawns roughly and add them to the sauce.
3 Cover with cling film and chill.
The assembly
Once the cucumber jelly is set, you can start building the cocktail.
1 Put avocado mousse into a piping bag and pipe onto the set cucumber jelly.
2 Add some of the shredded baby gem lettuce to cover the top.
3 Spoon over the prawns in the Bloody Mary sauce and top with 2 whole king prawns (optional).
4 Sprinkle with paprika or a little cayenne pepper and serve.
If you are feeling indulgent, you could top the cocktails with caviar and a sprig of fresh watercress.