Puy Lentil and Roasted Beetroot Salad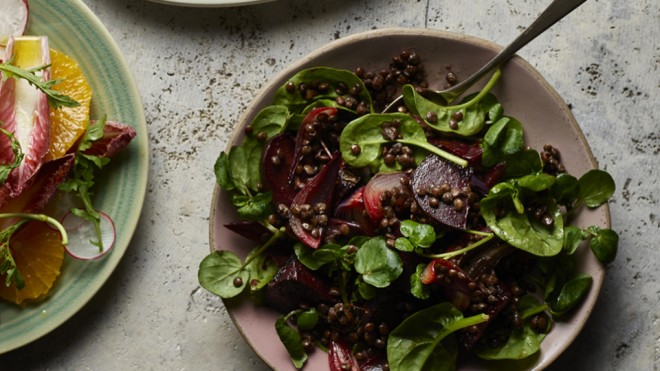 4 servings
1 hour to prepare
Ingredients
450g raw beetroot, topped tailed and quartered
2 red onions, cut into wedges
3 cloves garlic, sliced thinly
2tbsp fresh thyme leaves
2tbsp olive oil
250g pouch ready-cooked puy lentils
100g watercress
100g baby spinach leaves
Instructions
This hearty salad is almost a meal in itself. The only cooking involved is roasting the beetroot; otherwise, it's just a matter of assembly.
1 Preheat the oven to 200°C/fan 180°C/gas mark 6. Place a sheet of tin foil on a baking tray and arrange the beetroot quarters, red onion, garlic and thyme on top. Drizzle over the olive oil and then wrap to create a parcel. Roast in the oven for 45 minutes until the beetroot is tender. Set aside to cool a little.
2 Place the Puy lentils in a large bowl and toss with the watercress, spinach and the roasted beetroot. Mix together the dressing ingredients and pour over. Why not stir through crumbled goat's cheese?