Rhubarb and Rosehip Cocktail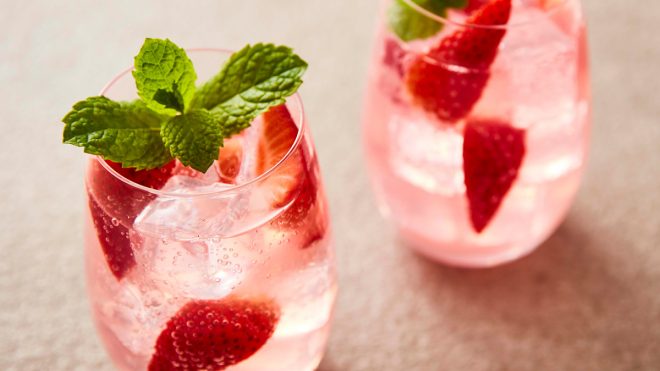 1 servings
5 minutes to prepare
Ingredients
2 strawberries, quartered
50ml Lakes Distillery Rhubarb & Rosehip Gin Liqueur
12.5ml honey syrup (1:1 ratio)
4 mint leaves
A dash of cloudy lemonade
Instructions
Get into the spirit of summer and enjoy our rhubarb and rosehip cocktail, whether you're searching for something to wow at your garden party or just a cheeky tipple at home – This will definitely do the trick!
Method
Add honey syrup and Lakes Rhubarb & Rosehip Gin Liqueur to a chilled hi-ball glass.
Add cubed ice, mint & quartered strawberries to the glass.
Top with cloudy lemonade and stir to combine.
Garnish with fresh strawberry and a sprig of mint.
For the Honey Syrup 
Add 1 part honey to equal parts boiling water. Stir to dissolve the honey. Leave to cool to room temperature before using. This can be stored in the fridge for up to 2 weeks.
Chef's Tip
For a large sharing serve, times all ingredients by 5 and combine in a large serving bowl or pitcher. Stir and decant into glasses.