Roasted Butternut Squash Pasta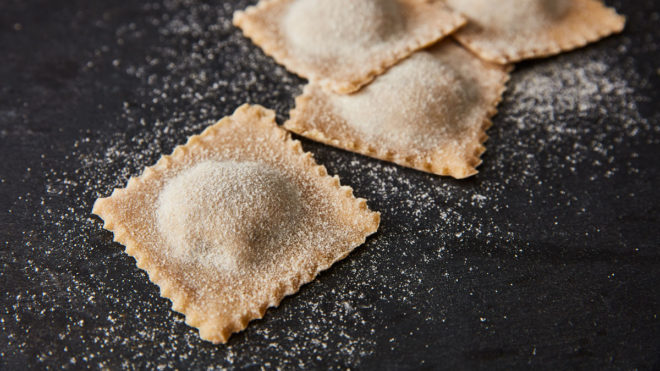 2 servings
27 minutes plus resting time to prepare
Ingredients
200g Wessex Mill Pizza / Pasta Flour
2 eggs
For the Filling
1/2 butternut squash, chopped and roasted
110g ricotta
20g grated Parmesan
1/4tsp grated nutmeg
1tsp orange zest
1/2tsp chopped sage
1 egg
To Serve
2tbsp butter
Black pepper
Instructions
Method
Tip the flour onto a wooden board or worksurface. Make a well in the centre.
Crack the eggs into the well and pull the flour towards it using a fork until the mixture resembles scrambled eggs.
Bring the dough together with your hands and knead for ten minutes. Wrap in clingfilm and refrigerate for 30 minutes.
While the pasta dough is resting, combine the filling ingredients in a blender and blitz until smooth.
Roll out the pasta dough on a lightly floured surface, flipping it over with every few rolls. Keep rolling the pasta until you can see your hand through the dough.
Cut the dough into two long strips. Drop teaspoons of filling onto one of the strips at 8cm intervals. Place the other strip of dough over the top and press around the balls of filling to seal. Cut into squares using a sharp knife or ravioli cutter.
Bring a pan of water to boiling point. Drop the ravioli into the water and leave to cook for 2 minutes. Remove with a slotted spoon.
Top each serving with a spoonful of butter. Season with black pepper and serve immediately.
Chefs tip: For a speedier alternative, you can replace the roasted butternut squash with 400g of sautéed spinach.