Salted Caramel Apple Crumble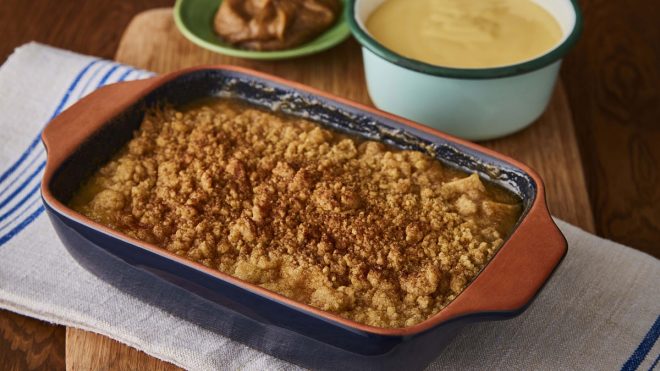 4 servings
40 minutes to cook, 20 minutes to prepare
Ingredients
For the Filling
450g apples peeled, cored & cut into chunks
Pinch salt
1 jar Cartmel Toffee Sauce
Crumble
300g sieved plain flour
175g unrefined brown suga
200g salted butter
Butter for greasing
Instructions
A really easy to make apple crumble with a twist on the tradtional in the form of sumptuous salted caramel.
Method
Preheat the oven to 180c/160c fan/ 350f / gas mark 4
In a large bowl mix together the flour and sugar
Rub the butter into the flour and sugar mix a bit at a time until it resembles breadcrumbs, then place on one side.
Put the apples into a greased 24cm ovenproof dish and mix the Cartmel toffee sauce with a pinch of salt then pour over the apples.
Top with the crumble mixture, then bake for 40 minutes or so until the top is browned and the fruit is bubbling.
Serve with Booths Proper Thick Custard.
Chefs Tip
For a twist to the recipe, if salted caramel is not for you, simply replace with a sprinkling of cinnamon and sugar for a more traditional taste.