The Boho Baker's Apple and Cinnamon Swirl Pie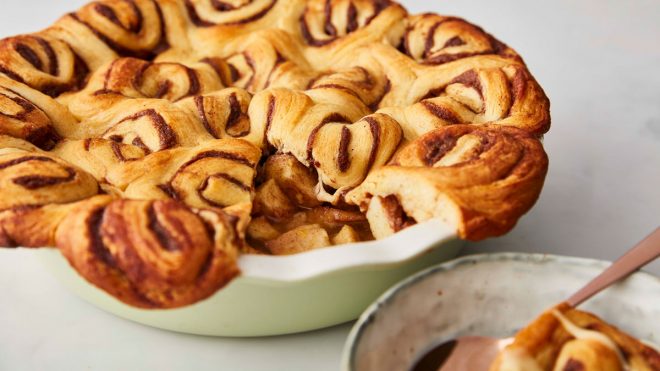 6 servings
1 hour to prepare
Ingredients
500g block puff pastry
5 large baking apples
2tbsp unsalted butter, melted
3tbsp ground cinnamon
150g golden caster sugar
Instructions
A combination of two of our favourite treats, cinnamon swirls and apple pie, into one decadent dessert created for us by The Boho Baker.
Method:
Preheat your oven to 180°C / 400°F / gas mark 4. Roll out the pastry to the thickness of two £1 coins. Brush with melted butter and sprinkle on two tablespoons of cinnamon. Roll the pastry into a tight log and slice into slim rounds.
Grease a 20cm pie dish and line with half of the cinnamon swirl slices.
Peel the apples and cut into small pieces. Pop them in a bowl with the sugar, remaining cinnamon and flour, shake well. Tip the apple filling into the prepared dish.
Take a sheet of greaseproof paper and lay out the remaining cinnamon swirls in a circle. Cover with another sheet of greaseproof paper and gently run a rolling pin over the top until the pastry pieces have merged together.

 

Remove the top sheet and flip the pastry lid on top of the pie, before removing the bottom sheet. Cut off any excess and brush with beaten egg.
Bake for 35 minutes. Serve with custard or a big dollop of ice cream.
Wine Match – Ginestet Sauternes
The ultimate dessert wine; rich and smooth with floral and honeyed apricot notes that make it perfect to serve chilled with a host of fruit or cream based desserts. Try it with The Boho Baker's Apple and Cinnamon Swirl Pie recipe. Find it in the French wines section.