Sausage, Sauerkraut and Potato Salad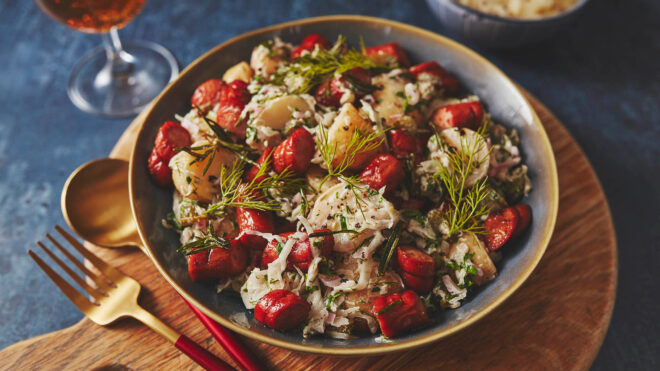 8 servings
20 minutes to prepare
Ingredients
500g new potatoes, cut in half
1 red onion, finely diced
100g gherkins, diced plus 4tbsp of the gherkin vinegar
1 bunch dill, chopped
1 bunch parsley, chopped
1 bunch chives, chopped
100g Sauerkraut
200ml mayonaise
Salt and pepper, to taste
1 jar hot dog sausages
25ml vegetable oil
Instructions
Method:
1. Simmer the new potatoes in salted boiling water until fully cooked. Let them cool down in a bowl with the diced onion, gherkin and gherkin vinegar. The new potatoes will take on the flavour of the onions and gherkin whilst they cool slightly.
2. Add all the chopped herbs, sauerkraut and mayonnaise and season to taste.
3. Chop the hotdog sausages and fry in a little oil until they start to caramelise and then fold through the potato salad.
Chef's Tip:
Serve this with a classic roast chicken and cold German pilsner for that authentic Oktoberfest vibe.