Savoy Cabbage, Red Chilli and Lemon Oil Pasta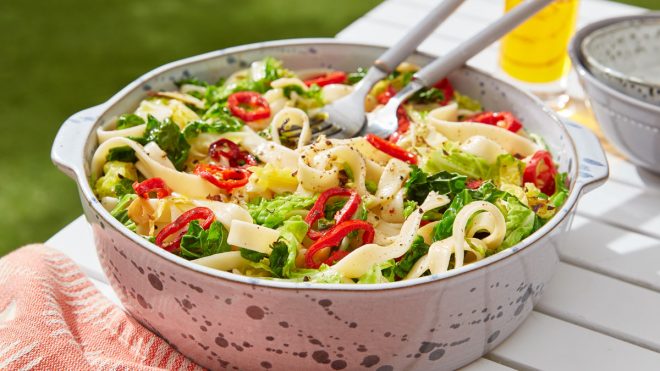 4 servings
15 minutes to prepare
Ingredients
3tbsp lemon oil
3 cloves garlic, sliced
2 red chillies, sliced
1 savoy cabbage, core removed and shredded
Salt and pepper
To Serve
Pasta of choice for 4
Extra lemon oil
Instructions
Our savoy cabbage, chilli and lemon pasta works well as a tasty midweek meal.
Method
Heat the lemon oil over a medium heat in a sauté pan.
Add the garlic and chili and cook for 2 minutes.
Add the shredded cabbage and cook, lid on for 8 minutes stirring occasionally.
Cook the pasta as per pack instructions, drain and keep warm.
Season the cabbage with salt and pepper.
Toss the cabbage through the pasta and serve in warmed pasta bowls.
Drizzle over extra lemon oil and enjoy.
Chefs Tip
To adapt this recipe for meat eaters, add 100g saluted pancetta cubes.
This dish is perfect for used as a side dish for a summer Sunday roast, just omit the pasta.