Seville Orange Marmalade with Gin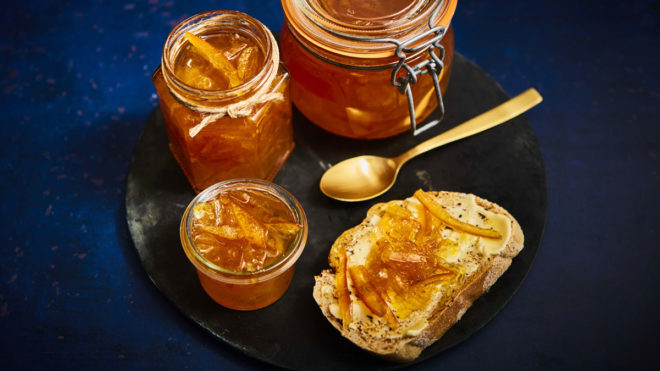 8 servings
1 hour 50 minutes to prepare
Ingredients
500g Seville oranges
1 lemon, juice only
500g jam sugar
2tbsp Chase Seville Marmalade Gin (optional)
Instructions
What's better on warm, buttered toast than homemade marmalade? Homemade marmalade with a little extra zest!
Place the Seville oranges into a saucepan. Cover with water and bring to the boil with a lid on the pan. Boil for 1.5 hours. (Ensure the oranges are always covered with water topping up the pan with boiling water as required).
Remove the oranges from the pan and allow to cool slightly. Reserve 200ml of the cooking water and discard the excess.
Cut each orange into quarters and remove any pips. Use a spoon to scrape the pulp from each quarter and set to one side.
Thinly slice the orange peel and add to the pan along with the pulp and the reserved 200ml of cooking water.
Add the lemon juice and jam sugar to the pan. Slowly bring to the boil stirring to help dissolve the sugar.
Boil for 8 minutes stirring regularly to avoid the marmalade catching on the bottom of the pan.

 

Remove the pan from the heat, add the gin (optional) and stir gently.

 

Spoon into sterilised jars, seal and label.

 
Chef's Tip
Swap the gin for whisky for a winter warming treat. Chase Seville Marmalade Gin gives this marmalade a zesty kick, or you can use classic gin.