Shiitake Mushroom and Leek Thai Noodles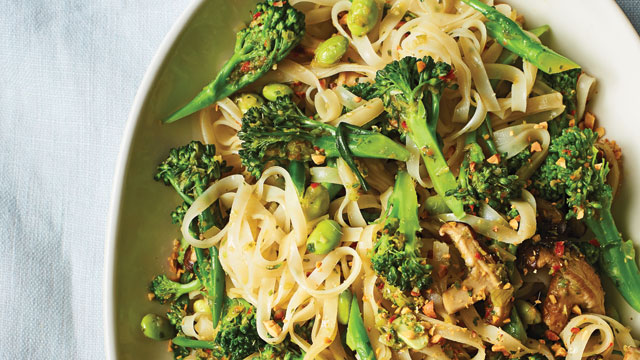 4 servings
35 minutes to prepare
Ingredients
200g rice noodles
A bunch of spring onions, trimmed and halved
A large bunch of fresh coriander
1 red chilli
1 lemongrass stick
2 garlic cloves
2.5cm piece of fresh ginger; peeled
2 tbsp sunflower oil
250g shiitake mushrooms, sliced
300g tenderstem broccoli
Juice of 1 lime
1 lime cut into wedges
2 tbsp low-salt soy sauce
2 tbsp sweet chilli sauce
125ml water
150g soya beans
2 tbsp peanuts, lightly toasted and finely chopped
Cooking tip you can make this recipe gluten free by using tamari sauce instead of soy
Instructions
Preparation time 15 minutes
Cooking time 20 minutes
1. Put the noodles in a large bowl and cover with boiling water. Leave to soak for about 10 minutes while you prepare the vegetables.
2. Put the spring onions, coriander, chilli, lemongrass, garlic and ginger in a food processor and mix until you have a coarse but finely chopped paste.
3. Heat half the sunflower oil in a wok or large frying pan over a medium heat. Add the mushrooms and cook for a few minutes until golden. Remove from the pan and set aside.
4. Heat the remaining oil in the same pan, then add the coriander paste and cook, stirring, for a few minutes. Add the broccoli and cook for 3 minutes, until it star ts to soften. Add the lime juice, soy sauce, sweet chilli sauce and 125ml of water and mix together well.
5. Return the mushrooms to the wok, add the soya beans and toss everything together well.
6. Add the noodles and mix well, then sprinkle with finely chopped peanuts and a wedge of lime.