Smoked Haddock & Cheddar Cheese Fishcakes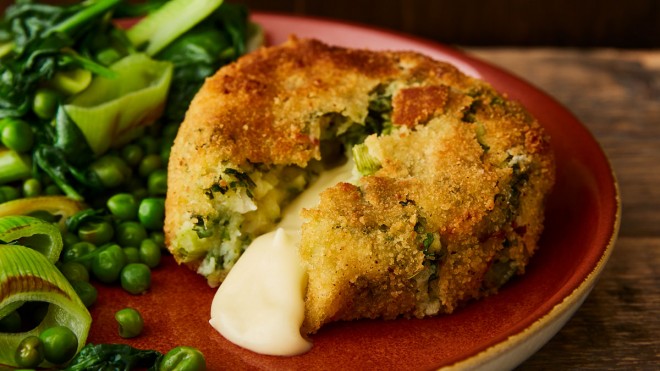 8 servings
20 mnutes to cook, 20 minutes to prepare
Ingredients
800g potatoes
500g smoked haddock
500ml milk
1 bay leaf
8 black peppercorns
1/2 onion roughly chopped
200ml water
2tsp dijon mustard
4 spring onions, finely chopped
Large handful of finely chopped parsley and dill
160g extra mature cheddar cheese cut into 8 pieces
75g plain flour
2 large eggs
100g breadcrumbs
Oil for pan frying
Instructions
A delicious dinner recipe that pairs smoked haddock with a melt in the middle surprise.
First, put the potatoes on to boil whole, with skins, until tender, then set aside to cool slightly.
Bring the milk, bay leaf, peppercorns, onion and 200ml water to the boil in a large pan. Add the haddock then reduce to a simmer and gently cook for 10 mins. Remove the fish and set aside to cool.
Preheat the oven to 200°c / 390°f / gas mark 7.
Peel the potatoes and mix with the dijon mustard.
Remove the skin from the haddock and discard. Mix the haddock with the potato, spring onion, dill and parsley, then season.
Divide your mixture into 8 balls. Make a hole in the middle of each and pop in a piece of cheddar. Close up and reshape into patties.
Divide the flour, eggs and breadcrumbs into 3 separate bowls. Dip and roll each fishcake in the flour, then egg and finally the breadcrumbs.
Fry them off in a frying pan until golden, place on a baking sheet lined with parchment paper and bake in the oven for 20 minutes before removing and enjoying with your favourite veggies.
Chefs Tip
Feel free to replace the cheddar with any good melting cheese, such as Taleggio or dolcelatte.