S'Mores Chocolate Cake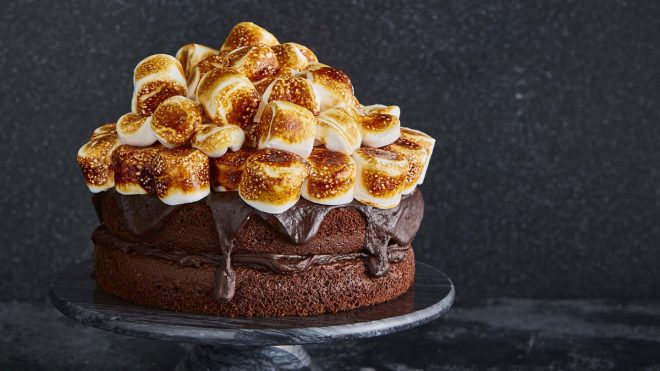 8 servings
45 minutes to prepare
Ingredients
1 box Betty Crocker Devil's Food Cake Mix
5tbsp vegetable oil
230ml water
3 medium eggs
1 tub chocolate buttercream
2 bags marshmallows
Instructions
This decadent s'mores chocolate cake makes for an impressive looking dessert – the key is in the decoration! If you prefer, you can bake your own chocolate cake rather than using a packet mix.
Make up the Devils Food Cake Mix as 2 x 8" cakes as per instructions on the pack.

 

Once cooled, coat the top of one cake with half of the chocolate buttercream. Stack the other cake on top.
Coat the top of the cake with the remaining buttercream ready to hold the mallows in place, allowing it to drip down the sides a little for decoration.
To brown the marshmallows, place them on a skewer and carefully hold them over a gas hob. Alternatively, place them on baking paper on a baking tray, and put them into the oven on a medium heat until they begin to brown.
Once cooled, pile the marshmallows on top of the cake and serve on its own, or with ice cream or cream.
Chef's Tip
Up the S'more level by using Lotus Biscoff spread in the middle of the cake in addition to the buttercream, and add a few biscuits to the top to decorate along with the marshmallows.