Spelt Pancakes with Falafels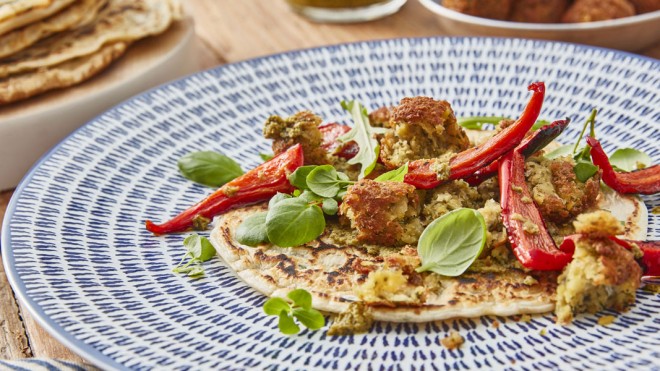 4 servings
50 minutes to prepare
Ingredients
For the pancakes
200g white spelt flour
1tsp baking powder
1/2tsp salt
2tbsp olive oil
10g basil, finely chopped
Olive oil for frying
For the filling
2 red peppers
A drizzle of olive oil
Salt & pepper
200g pack falafels
For the dressing
1tbsp pesto
3tbsp olive oil
To serve
10g basil leaves
Rocket leaves
Instructions
Pre-heat the oven to 200°C (fan)/425°F/gas mark 7.
Place the flour, baking powder and salt into a mixing bowl. Stir to combine.
Make a well in the centre and slowly add 375ml of water, whisking all of the time to prevent lumps.
Add the olive oil and chopped basil and set to one side to rest.
To make the filling, cut the peppers in half and remove the seeds and stalks. Cut each half into 4 strips and place on a baking tray. Drizzle with olive oil and season. Roast in the pre-heated oven for 30 minutes. After 30 minutes add the falafel balls and cook for a further 5 minutes.
Whilst the peppers are roasting, heat a drizzle of olive oil in a non-stick frying pan. Add a ladle of batter mix and cook each pancake for 3-4 minutes on each side or until golden brown. Remove from the pan and set to one side. Repeat to use all of the batter and make 4 pancakes. Place a square of baking paper between each pancake to prevent the stack from sticking.
To make the dressing, mix the pesto and olive oil in a small bowl.
To serve, spoon 1 teaspoon of pesto dressing over the base of each pancake. Divide the roasted red peppers between the pancakes. Crumple over the falafel and spoon over the remaining pesto dressing. Garnish with basil leaves and fold the pancake in half. Garnish with rocket leaves and serve.
Chefs Tip
Vary the fillings in these vegetarian pancakes. Feta and spinach, mushroom and sage and asparagus and spring onion all work well.