Spiced Apple Syllabub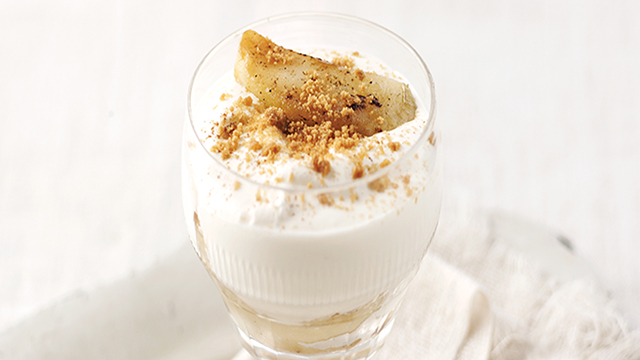 4 servings
35 minutes to prepare
Ingredients
4 dessert apples, peeled, cored and cut into 8 wedges
25g unsalted butter
1tbsp honey
4 pinches of cinnamon
150ml fresh apple juice
50g caster sugar
½ Juice of lemon
284ml double cream
3 ginger biscuits, crushed
Instructions
In a small bowl, mix together the apple juice, lemon juice, caster sugar and 2 pinches of the cinnamon and pop into the fridge to chill.
Place a large frying pan over a medium heat and melt the butter. Add the apples with the remaining cinnamon and cook until golden on both sides. Drizzle over the honey and continue cooking for 1 minute, remove from the pan and leave to cool completely.
To make the syllabub pour the cream into a large mixing bowl and start whisking, an electric hand whisk at this stage would be best. Pour in the chilled apple juice mixture and whip up until you have soft peaks. It is really essential that you don't over whisk, the syllabub should gradually fall off a spoon.
Reserving a few pieces of apple to garnish, place the remainder into 4 serving glasses. Top with the syllabub mixture, scatter over the crushed ginger biscuits and garnish with the reserved apples and serve.
These can be kept in the fridge for a few hours if not serving straight away.