Spiced Butterflied Leg of Lamb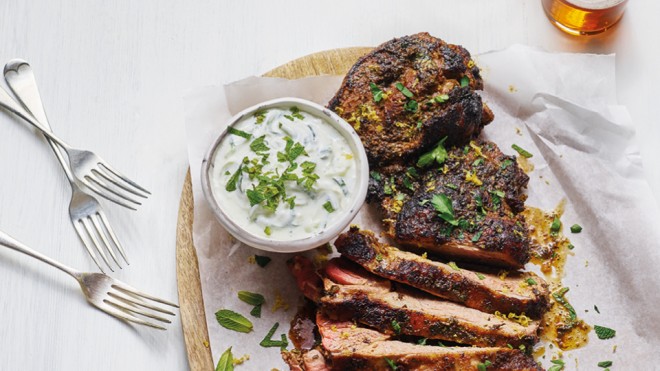 6 servings
15 minutes to prepare
Ingredients
1 leg of lamb
50g butter
2tbsp olive oil
4tbsp Ras El Hanout Spice Mix
1tbsp fresh thyme, chopped
1 lemon
2tbsp ground sumac
1 large handful flat leaf parsley, chopped
1 large bunch fresh mint, chopped
black pepper
Instructions
1 Melt the butter and mix in a bowl with olive oil. Stir in the Ras El Hanout Spice Mix, thyme, lemon zest and juice, sumac, parsley, mint and grind in plenty of black pepper.
2 Place the lamb in a large shallow dish, pour over and rub in the marinade. Cover with cling film and leave to marinate in the fridge overnight.
3 When ready to cook, light the barbecue and add the lamb (fat side down). Cook on a fairly high heat for 5 minutes until well browned then turn over and cook for a further 5 minutes to brown the other side.
4 Move the coals to the sides of the barbecue to reduce the heat under the meat and cook gently for 30 – 40 minutes turning occasionally until you have a crusty golden coating.
5 Remove the meat from the barbecue and leave to rest for 10 minutes before cutting into thick slices.
If you have to move your barbecue indoors simply preheat the oven to 220˚C / fan 200˚C / gas mark 7. Place the marinated lamb into a shallow roasting tin and cook on a high heat for 10 – 15 minutes then reduce the temperature to 180˚C / fan 160˚C / gas mark 4 and cook for a further 40 minutes.
Why not serve alongside thick greek yoghurt, with chopped mint and cucumber stirred through for a cooling sauce.
The optimum time and temperature varies by individual ovens – these are guidelines only. Please ensure all cooked recipes are served piping hot. Keep raw meat separate from cooked food. Use separate kitchen utensils and surfaces for raw and cooked foods, or wash thoroughly in between use. Wash hands after handling raw meat. Some products may only be available in our larger stores. All content © Booths 2015.