Spiced Cottage Pie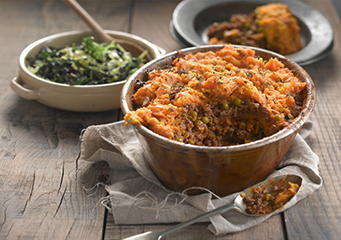 6 servings
70 minutes to prepare
Ingredients
Main Ingredients
500g Booths everyday lean minced beef
1 onion, finely chopped
2tbsp olive oil
2 celery stick, finely chopped
2 garlic cloves, finely chopped
2 bay leaves
1tsp thyme
1tsp ground cumin
½tsp chilli flakes
400g tin of chopped tomatoes
1 beef stock cube
150g frozen peas
1tbsp tomato puree
1 large butternut squash
200ml water
Instructions
Pre-heat the oven to 200*c / gas 6.
Cut the butternut in half and score the inside with a knife, season with salt, milled pepper and drizzle over a little olive oil. Place into the oven and cook for about 30 minutes until golden and soft then leave to cool.
While the butternut is cooking, take a large pan and place over a medium heat. Add 1tbsp of the olive oil and cook the onion and celery for about 3 minutes until soft but not browned. Now add the garlic, cumin, chilli flakes, thyme and the minced beef, cook until the beef has sealed. Next add the tinned tomatoes, stock cube and about 200ml of water to the pan, leave to simmer for 30 minutes before adding the tomato puree and peas. Season the mixture to taste then transfer to a ceramic oven dish and leave to one side.
With a spoon, scoop out the butternut and lightly mash with a fork. Place the mashed butternut over the mince and pop into the oven to cook for about 20 minutes until hot and bubbly. Serve with your favourite greens.