Spring Fried Rice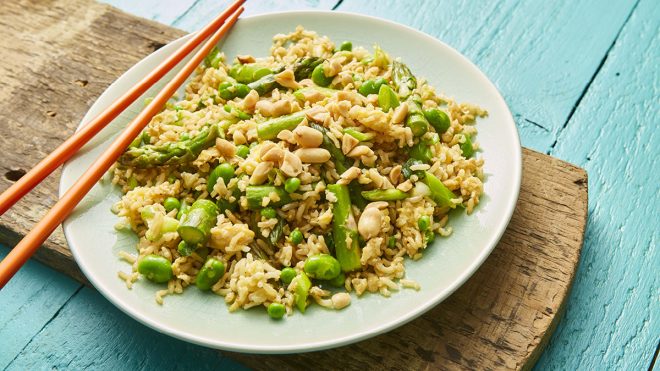 4 servings
13 minutes to prepare
Ingredients
1tsp sesame oil
1 250g pack cooked brown rice
4 spring onions, sliced
100g frozen peas
150g broad beans, shelled
200g asparagus, sliced
3tbsp soy sauce
2 eggs, beaten
2tbsp peanuts, chopped
Instructions
One of the great things about fried rice is that it pretty much goes with just about everything, making it the perfect way to show off the very best seasonal spring produce.
Method
Heat the sesame oil over a medium heat in a large frying pan.
Add the rice, spring onions, peas, broad beans and asparagus. Cook for 3 minutes.
Add the soy sauce and cook for 1 minute.
Push the fried rice to the side of the pan, add the egg and scramble before mixing to combine with the fried rice.
Spoon into serving bowls and garnish with chopped peanuts.
Chefs Tip
Why not swap the rice for a pack of pre-cooked quinoa? Serve warm or cold for picnics, packed lunches and BBQ sides.