Steamed Chocolate Pudding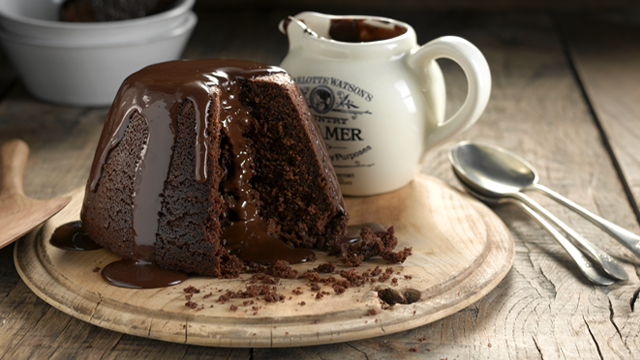 6 servings
95 minutes to prepare
Ingredients
100g unsalted butter
2tbsp golden syrup
100g dark muscovado sugar
150ml milk
1 large egg
1tbsp tbsp cocoa
220g self raising flour
1tsp ground cinnamon
¼tsp bicarbonate of soda
50g dark chocolate, chopped
For the chocolate sauce
5tbsp milk
5tbsp cream
1tbsp golden syrup
100g dark chocolate
Instructions
Lightly grease with butter the inside of a 1.2ltr pudding bowl, lining the base with a disk of buttered greaseproof paper.
In a saucepan melt the butter, golden syrup and sugar over a low heat. Remove from the heat and stir in the dark chocolate, leave to cool for 5 minutes then whisk in the milk and egg.
In a mixing bowl sieve the flour, bicarbonate of soda, cocoa and cinnamon. Add the warm butter mixture and gently fold everything together.
Pour the mixture into the prepared pudding bowl and cover tightly with some tin foil or greaseproof paper and secure with string. Steam for 1¼ hours, rest for 5 minutes before turning out onto a plate.
To make the chocolate sauce, simply add the ingredients to a small saucepan and over a low heat stir until melted. Turn the pudding out and serve with the warm chocolate sauce.