Strawberry Cheesecake Shake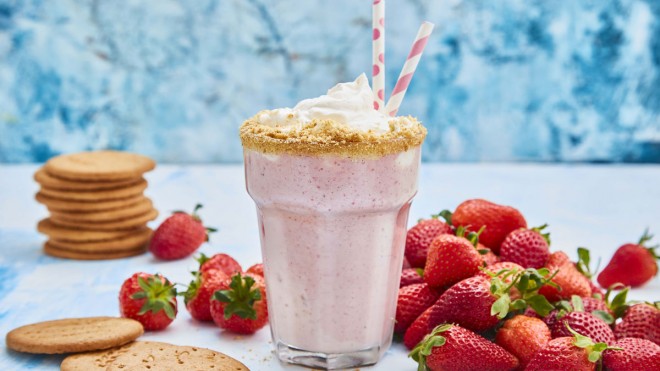 4 servings
10 minutes to prepare
Ingredients
50g butter, melted
2 digestive biscuits
4 scoops strawberry ice cream
2 scoops vanilla ice cream
100ml strawberry sauce
500ml milk
3 heaped tbsp cream cheese
100g strawberries
To Serve
Squirty cream or freshly whipped double cream
Instructions
This indulgent strawberry milkshake is perfect as a dessert on a sunny Summer's day.
Method
Blend or crush the biscuits into a fine powder and place into a saucer, fill another saucer with the melted butter. Take 4 milkshake glasses and dip the rim of each one into the butter and then the biscuit crumbs.
Blend the remaining ingredients with any left over biscuit crumbs until smooth and divide between the glasses. Decorate with squirty cream or freshly whipped double cream.