Stuffed Pumpkin Peppers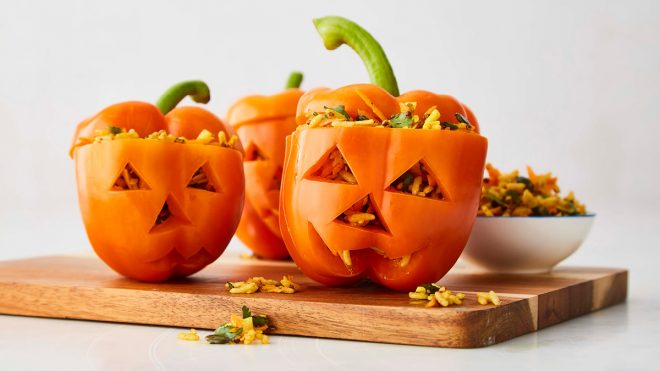 4 servings
35 minutes to prepare
Ingredients
4 Orange peppers
1 x 220g Pack cooked wholegrain rice and quinoa
1 Carrot, peeled and grated
1tbsp Pumpkin seeds
1tsp Turmeric
1tsp Ground coriander
50g Cheese, grated
1 tbsp Coriander leaves, chopped
Salt and Pepper
Instructions
For a simple and spooky Halloween recipe, these stuffed pumpkin peppers will go down a treat with the kids. Don't forget to take a look at our chefs tip for some handy hints on how you can use up your leftovers!
Method
Pre-heat the oven to 180°C (fan)/400°F/gas mark 6.
Ask an adult to help prepare the peppers; using a small paring knife cut the tops off each pepper, remove the seeds and discard. Carefully cut a spooky face into each pepper, triangles for eyes, a nose and a spooky mouth.
Ask an adult to help bring a pan of water to the boil, add the peppers and tops and blanch for 5 minutes. Remove and place the peppers and tops on a baking tray.
Place the remaining ingredients into a mixing bowl. Mix well to combine.
Spoon the prepared filling into the peppers and finish with a pepper top lid.
Bake the peppers in a pre-heated oven for 20 minutes.
Chefs Tip –  These peppers make a great side dish for a Halloween party. Add a couple of tablespoons of leftover chilli or shredded chicken to the rice mix, a great way of using up leftovers.