Summer Green Salad with Mozzarella and Parma Ham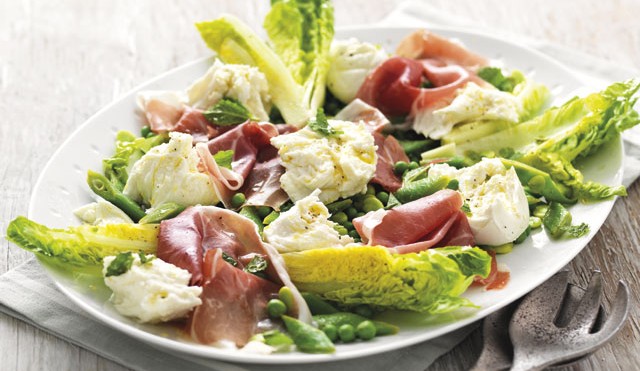 4 servings
30 minutes to prepare
Ingredients
2 mozzarella balls, drained
1 packet Parma ham
100g runner beans, sliced
100g broad beans, podded and shelled
100g fresh peas, podded
2 tbsp extra virgin olive oil
Juice of 1 lemon
Small handful fresh mint leaves, torn
2 sweet gem lettuces cut into ¼'s
40g pea shoots
Salt and milled pepper
Instructions
HOW TO DO IT
Make sure the mozzarella cheese is drained and left at room temperature for 20 minutes to bring out the subtle flavours of the cheese.
Bring a saucepan of salted water to the boil. Add the runner beans and cook for 2 minutes before adding the broad beans and peas, cook for a further minute, drain and refresh under cold water.
Meanwhile in a large bowl whisk the olive oil and lemon juice together with a few turns of a pepper mill. Toss the drained refreshed vegetables in the dressing with the mint and season with a little salt. Divide between your serving plates or on one large platter.
Toss the sweet gem in the remaining dressing and add to your plates. Tear the mozzarella onto the salad and finish with waves of the Parma ham and a sprinkling of pea shoots.