Summer Time Gin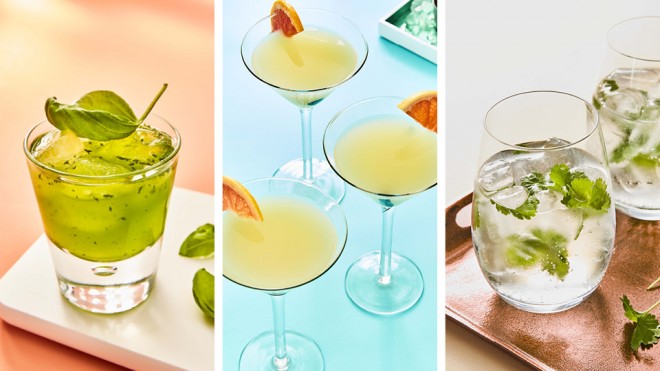 1 servings
5 minutes to prepare
Ingredients
Basil Hendrick's
50ml Hendrick's gin
25ml fresh lemon juice
12.5ml sugar syrup
8 torn basil leaves
Mediterranean Gin
50ml Copperhead gin
20ml mediterranean Fever Tree tonic
ice
Fresh coriander
Grapefruit Gin
Handful of ice
50ml The Lakes Gin
25ml fresh grapefruit juice
25ml extra dry Martini
Fresh grapefruit to garnish
Instructions
A selection of our favourite summer time gin recipes.
Basil Hendrick's
Add basil to the base of your cocktail shaker and muddle gently. Add the remaining ingredients and shake hard over ice. Strain into an ice-filled glass.
Mediterranean Gin
Fill a glass with ice, and roll the ice around for a minute to cool your glass. Add the coriander and Copperhead gin. Pour the tonic into the glass. Do not stir.
Grapefruit Gin
A tangy Lakeland take on the traditional Martini. Add all the indregients to a cocktail shaker, give it a good shake over ice then strain into a Martini glass and serve with a grapefruit garnish.