Sweet & Spicy BBQ Brisket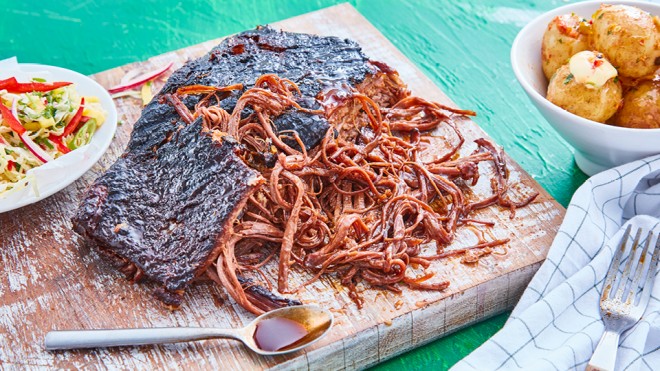 6 servings
17 hours to prepare
Ingredients
3kg beef brisket
1ltr hot beef stock
BBQ Woodchips
For the dry rub
3tbsp garlic powder
2tbsp smoked paprika
2tbsp ground black pepper
1tbsp salt
1tsp chilli powder
For the BBQ Sauce
1tbsp vegetable oil
1/2 red onion, chopped
2 red chillies, chopped & deseeded
2 garlic cloves, chopped
1 thumb sized piece of ginger, peeled & finely chopped
100g muscovado sugar
50ml Worcestershire sauce
500g tomato ketchup
500ml pineapple juice
Juice of 4 limes
Instructions
Gorgeous started in the oven and finished on the BBQ, you'll need to prepare this brisket the day before you want to eat it.
Mix together all ingredients for the rub. Ensure the brisket is laid flat and rub all over with the spice mixture. Wrap in clingfilm and leave in the fridge overnight.
For the BBQ sauce, fry the onion, garlic, chilli and ginger in the vegetable oil until soft, add the remaining ingredients and bring to the boil. Simmer gently for 30 minutes and allow to cool before blending in a food processor.
Preheat the oven to 160°C/325°F/gas mark 3. Whisk together half the BBQ sauce with the hot beef stock to make a braising liquor. Place the brisket in a deep roasting tin and cover with the braising liquor. Cover the beef with a layer of baking parchment before tightly covering the roasting tin with two layers of tin foil, making an air tight seal around the tin. Place in the oven for 4-5 hours.
Remove from the oven and carefully lift the brisket onto a large chopping board and leave to cool slightly. If you're not finishing on the BBQ, glaze with the remaining sauce and serve.
To add authentic BBQ smokiness to this dish, light a charcoal BBQ and when the embers are evenly glowing, add a handful of wood chips, lay the brisket, flat side down onto the BBQ and allow to char on one side until crispy. Flip over onto a wooden serving board and glaze with some of the remaining BBQ sauce.
Chef's Tip
Ask at the butcher counter for a fattier cut of brisket for a deeper flavour.