The Boho Baker's Chocolate Biscoff Flower Babka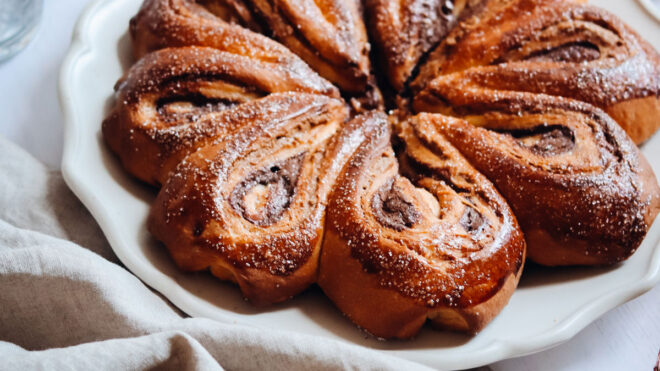 8 servings
15 minutes (plus 2 hours proving time) to prepare
Ingredients
1tsp dried active yeast mixed with 1/2tsp sugar
55ml lukewarm water
35g granulated sugar
290g strong white bread flour
1tsp vanilla extract
55ml milk
85g unsalted butter
1 egg
4tbsp chocolate hazelnut spread
8tbsp Biscoff spread (smooth or chunky)
1 egg, beaten
2tsp sugar
Instructions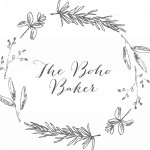 The Boho Baker describes herself as "Baker. Writer. Forager. Wanderer. Organic ingredient and edible floral Enthusiast. Member of the Guild of Food Writers." Very local to our HQ in Preston, she's kindly agreed to do a series of recipes for us, celebrating the best of our local produce. Follow her on Instagram @thebohobaker
Method:
1) Stir the yeast and sugar mixture with the lukewarm water. Leave to foam for 5 minutes.
2) Combine the flour and 35g sugar in the bowl of a stand mixer fitted with a dough hook.
3) Heat the milk and butter until the butter has fully melted. Add to the flour mixture and begin to mix on a medium speed. Add the yeast mixture, vanilla, and egg and leave to mix for 5 minutes. Transfer the dough to a lightly oiled bowl, cover and leave to rise for 90 minutes.
4) Turn the dough out and divide into 4 evenly sized pieces. Roll out each piece into a circle approximately 20cm in diameter (using a small plate as a template can help).
5) Place one of the circles on a sheet of baking paper and coat with 4tbsp of Biscoff spread. Top with another circle and coat with the chocolate hazelnut spread. Add a third circle, cover with the remaining Biscoff spread and top with the last piece of dough.
6) Starting 1cm in from the edge of the circle, make four large incisions across the dough to create a star shape. Take care not to cut beyond the edges of the circle if possible.
7) Using a wooden spoon, create an indentation between two of incisions (this will form a seal that will prevent the filling seeping out later). Repeat between each set of incisions.
8) Take a knife to one of the indentations. Starting 1cm from the centre of the pastry, cut along the indentation and repeat along the remaining 7 pieces.
9) Starting with the pastry piece closest to you, take the bottom corners and fold them in to one another to create a petal shape. Repeat with the remaining 7 pieces. Cover the babka with a damp tea towel and leave to rise for 30 minutes.
10) Preheat the oven to 180°C/160°C/gas mark 4. Brush the beaten egg over the top of the babka and sprinkle with sugar. Bake for 30 minutes before leaving to cool slightly on a wire rack. Serve warm or cold.