The Boho Baker's Coffee & Caramelised Walnut Cake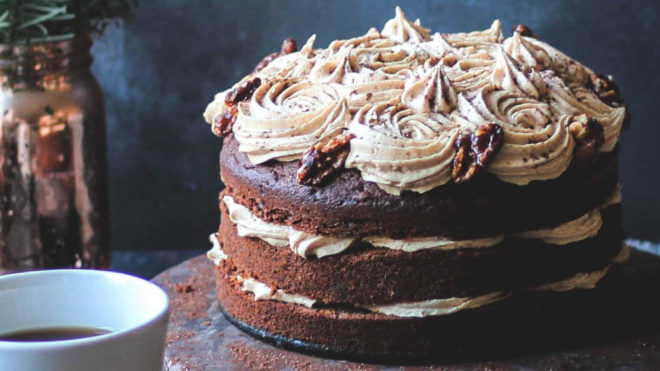 8 servings
1 hour 30 minutes, plus cooling time to prepare
Ingredients
For The Sponge
150g self raising flour
165g light brown sugar
165g cake margarine
70g finely chopped walnuts
3 eggs
2tbsp coffee powder
1tsp milk
Pinch salt
For The Filling
500g icing sugar
250g unsalted butter
1/2tsp vanilla extract
3tbsp coffee powder mixed with 1.5tbsp boiling water and left to cool
For The Topping
100g walnut halves
150g white sugar
2tbsp butter
Instructions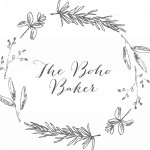 The Boho Baker describes herself as "Baker. Writer. Forager. Wanderer. Organic ingredient and edible floral Enthusiast. Member of the Guild of Food Writers." Very local to our HQ in Preston, she's our fabulous professional guest recipe writer, and champion of celebrating the best of our local produce. Follow her on instagram @thebohobaker
This gorgeous coffee and caramelised walnut layer cake from The Boho Baker is the perfect pick-me-up with your afternoon coffee!
Method:
Preheat your oven to 160C/140C (fan)/gas mark 3. Grease and line a 17cm cake tin in preparation.

Combine all of the sponge ingredients (with the exception of the walnuts) in a large bowl. Whisk until a smooth batter has formed before folding in the chopped walnuts. Pour the batter into the cake tin and bake in the oven for 50-60 minutes, or until a skewer inserted into the centre of the cake comes out clean.

When the cake has cooled completely, carefully cut it into three layers using a bread knife. Prepare the filling by whisking together the icing sugar, butter, vanilla, and cooled coffee until light and fluffy. Fill both layers of the cake, using any remaining buttercream to cover the top.

For the caramelised walnuts, place all the ingredients in a pan over a medium heat. Stir continuously for approximately 3-5 minutes, or until the sugar and butter have melted down into a golden caramel. Tip the walnuts onto a sheet of baking paper, separating with a spatula as they cool. When the caramel has set completely, use the walnuts to decorate the top of the cake. Enjoy with a strong cup of coffee.