The Boho Baker's Fox Donuts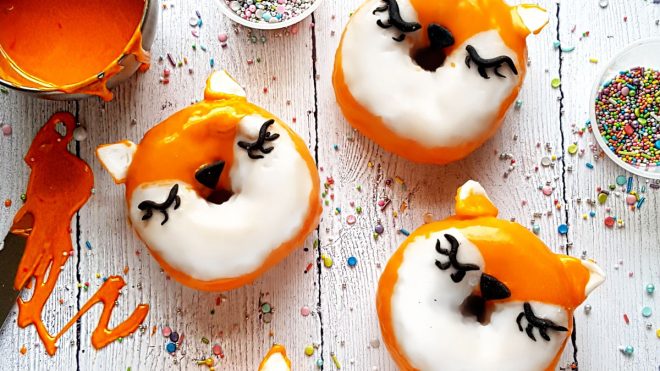 8 servings
2 hours 30 minutes to prepare
Ingredients
250g strong white flour
25g caster sugar
20g unsalted butter
7g instant yeast
5g salt
1 egg
75ml warm milk
FOR THE DECORATIONS
500g fondant icing sugar
20g white sugar paste / ready to roll icing
20g black sugar paste / ready to roll icing
Dash orange food colouring
Instructions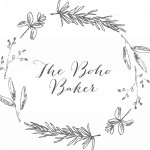 The Boho Baker describes herself as "Baker. Writer. Forager. Wanderer. Organic ingredient and edible floral Enthusiast. Member of the Guild of Food Writers." Very local to our HQ in Preston, she's kindly agreed to do a series of recipes for us, celebrating the best of our local produce. Follow her on instagram @thebohobaker
If you don't fancy making your own donuts this is great fun to do with store bought ring donuts ones instead, just give them a light scraping with a knife first to remove any excess sugar.
To make the donuts:
Add all of the donut ingredients (with the exception of the vegetable oil) into a large bowl. Add a tablespoon of water and work it in with your hands. Continue to add more water, a tablespoon at a time, until a dough has formed.
Tip the dough out onto a lightly floured surface and knead for ten minutes. Place the dough inside a bowl, cover with a damp teatowel, and leave in a warm place to rise for 40 minutes.
Roll out the dough to the thickness of two £1 coins. Using a circle cutter (or a knife with a saucer as a template), cut out eight large circles. Use a smaller cutter to cut a hole in the centre, before spinning each donut around your finger to expand.
Place the donuts on a lightly oiled tray and cover loosely with oiled clingfilm. Leave to rise in a warm place for a further 30 minutes.
Preheat your fryer to 180C. Gently add the first donut to the hot oil and deep fry until golden brown. Carefully remove from the fryer and set aside to cool. Repeat with the other donuts.
To decorate the donuts:
Tip the fondant icing sugar into a bowl and add water a tablespoon at a time until you have a thick, glossy icing. Take the donuts one at a time, and dip them into the fondant until the top is completely covered. Place on a wire rack to set.
Make 16 small ears by by hand moulding the fondant into triangle shapes and pinching the top of each one. Stick two to each donut using a little fondant icing.
Add a dash of orange food colouring to the remaining fondant and mix until the colour is consistent and no streaks remain. Take a teaspoon of orange fondant and drop it between the two ears of the first donut. Use a knife to gently pull the fondant into a V shape to create a nose, then out to the sides towards the ears for the rest of the head. Repeat with the other donuts.
Use any remaining orange fondant to gently cover the sides of each donut. Leave on a rack to dry.
Use some of the black fondant to create 8 little noses, then roll out the rest to make the eyes and eyelashes. If the donuts are completely dry at this point, just dab a tiny dot of fondant on the noses/eyes to ensure that they stick.
Enjoy within 3 days.
Hints/tips/troubleshooting:
If you fancy a flavoured donut, add a dash of lemon, almond, or vanilla extract to your fondant icing before coating.
If you don't have time to fry your own donuts then store bought work just fine. Just give them a light scraping with a knife first to remove any excess sugar.