The Boho Baker's Red Velvet Pancakes with a Cream Cheese filling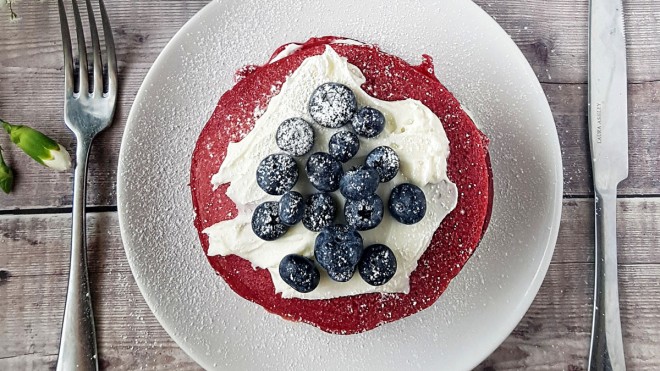 6 servings
10 minutes to cook, 40 minutes to prepare
Ingredients
For the Pancakes
1 small beetroot
100g plain flour
1tsp baking powder
1 egg
2tbsp runny honey
1tsp vanilla extract
125ml milk
For the Filling
200g cream cheese
40g whipping cream
65g icing sugar
1tsp vanilla extract
Instructions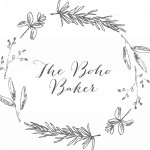 The Boho Baker describes herself as "Baker. Writer. Forager. Wanderer. Organic ingredient and edible floral Enthusiast. Member of the Guild of Food Writers." Very local to our HQ in Preston, she's kindly agreed to do a series of recipes for us, celebrating the best of our local produce. Follow her on instagram @thebohobaker.
These fluffy red pancakes contain no artificial colours and rely on the humble beetroot to provide their vibrant hue. The earthiness of the beet is masked by the vanilla extract and balanced with the cream cheese filling, creating a delicious dish that is perfect for an evening dessert or a luxurious breakfast.
Recipe yields 6 thick pancakes or 12 crepes.
Method:
Preheat your oven to 200C/Gas Mark 6. Peel and quarter the beetroot before placing in a covered dish with a tablespoon of water and bake for 20-30 minutes.
Whilst the beetroot is baking, combine the flour and baking powder in a bowl and set aside. In a separate dish, combine the egg, honey, and vanilla extract and whisk together lightly with a fork.
Once cooked, blend the beetroot with the milk in a food processor until well combined. Pour into the bowl of liquid ingredients and whisk gently.
Gradually add the liquid to the bowl of flour and baking powder and mix until it resembles a regular pancake batter.
Set the batter aside for ten minutes to settle whilst you make the filling. To do this, simply add the cream cheese to the whipping cream, icing sugar and vanilla extract and mix until fluffy and smooth.
Warm a small amount of butter or oil in a frying pan on a medium heat and ladle the mixture in small amounts, spreading out thinly for crepes or keeping it contained to the centre of the pan for thicker, American style pancakes. Use a spatula to check the edges of the pancake as it firms. When you can get the entire spatula under the pancake, flip over to cook the other side. This usually takes between 60 seconds and 2 minutes per side, depending on the thickness of the pancake.
Remove the pancake from the pan and leave to cool for a minute before adding the filling. If you're making crepes, spoon a line of filling down the centre of the pancake and roll it up. For American style pancakes, sandwich them together with the cream cheese filling and keep stacking to your desired height. Serve with berries and a dusting of icing sugar.
Hints/Tips/Troubleshooting:
The flour and baking powder can be substituted with a gluten free equivalent and still taste delicious.
When blending the beetroot and milk, check the bottom of the blender for lumps before adding the liquid to the egg and honey mixture.
For a lighter option, add a little milk to the cream cheese filling to create a drizzle topping.