Traybake Frittata Picnic Bites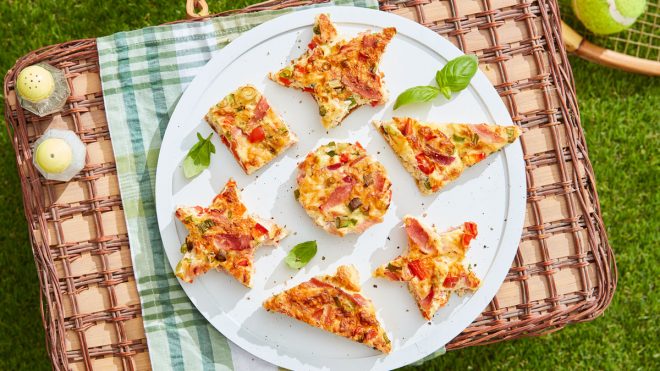 6 servings
40 minutes to prepare
Ingredients
12 eggs
125ml milk
Salt & pepper
5 spring onions, diced
1 red pepper, diced
100g ham, sliced
100g cheese, grated
10g basil, chopped
Instructions
To divide this easy traybake frittata amongst your younger lunch guests and create those picnic bites, it's fun to use your cutters – or why not let them do it?
Method
Pre-heat the oven to 180°C (fan)/400°F/gas mark 6.
Line a 20x30cm deep baking dish with baking paper.
Whisk the eggs and milk in a bowl and season with salt and pepper.
Add the remaining ingredients and mix well.
Pour into the prepared dish and bake in a pre-heated oven for 30 minutes or until golden brown and cooked through.
Allow to cool slightly before slicing into wedges to serve.
Chefs Tip
This is a great way of using up fridge leftovers, anything goes!